Romeo Miller net worth
| Net Worth: | $5 Million |
| --- | --- |
| Profession: | Singer, Actor, Fashion designer, Model, Rapper, Basketball player, Entrepreneur, Athlete |
| Age: | 30 years old |
| Date of Birth: | Aug 19, 1989 |
| Country of Origin: | United States of America |
| Last Updated: | 2020 |
Romeo miller also known as Lil Romeo is an American rapper, model, actor, and entrepreneur, with a net worth of about $5 Million.
His popularity is owed to his signing into No Limit Records in 2000, a record label owned by his father(Master P) at that time.
Lil Romeo's net worth is estimated to be about $5 Million as of 2020.
Early Life
Lil Romeo is an entertainment star born on August 19, 1989, in New Orleans, United States. He was given the birth name Percy Romeo Miller but he is however popularly known for the name Lil Romeo.
He was born into a family of music stars, his father(Master P) being a popular rapper, and the owner of the record label 'No Limit Records' and his mother also a rapper by name Sonya C.
He has eight siblings namely Cymphonique, Mercy, Tatyana, Valentino, Italy, Vero, Percy, and Inty Miller. Romeo's sister Cymphonique Miller also following the family trend is a singer and actress by profession.
Romeo attended the Windward High School, Beverly Hills High School, where he performed very well playing for the school's basketball team.
He furthered his education to the college-level attending the University of Southern California where he also had a very successful basketball career.
Music Career
Lil Romeo venture into music kicked off at a very tender age after being signed into a subsidiary label of No Limit Records called Soulja Music Entertainment when he was five years old.
His signing into Soulja Music Entertainment was put in thought after he wrote a short rap for master P his father who was then the owner of the label No Limit Records.
Thereafter, in 2001 barely 7 years after he was signed, Lil Romeo released his debut album titled "Lil' Romeo" this time under the No Limit Records label which consisted of the hit single "My Baby."
The album "Lil' Romeo" was a huge success, making sales of over 200,000 copies on the first weak of its release and amassing number 6 on the Billboard 200, finally, it was certified Gold by the RIAA.
In 2002, Lil Romeo released his second album titled "Game Time" which was also a success, peaking number 10 on the Top R&B/Hip-Hop Albums chart and at the Billboard 200 it amassed No. 33.
Though not as successful in the charts as his initial debut album, the album "Game Time" had more sales. It sold about 2,500,000 copies in the United States.
Two years later in 2004, Lil Romeo released his third studio album under The New No Limit and Koch which he titled "Romeoland".
Just like his second album, the album "Romeoland" was not as successful as his first album on the charts, it amassed #70 in the Billboard 200.
Nevertheless, it had yet another great sale, with more than 250,000 copies sold in the US on the first week of its release.
The album "Romeoland" was the last he released under the name 'Lil Romeo' he proceeded with going by 'Romeo' alone.
Later, in the year 2005, Romeo worked in collaboration with the father to establish a new record label which they named Guitar Music Entertainment.
Still, in 2005, Romeo created a rap group called "Rich Boyz" in partnership with Valentino Miller his brother, and three of his cousins namely C-Los, Lil'D, and Willie J.
They went ahead to release their official studio debut album on the 22nd of November, 2005 through gutter music which they titled "Young Ballers: The Hood Been Good to Us". Unfortunately, the duo was not a lasting one, they disbanded after their first album.
Nevertheless, Romeo's career did not come to a halt, the next year, in the April of 2006, he released a solo album which he titled "Lottery."
This was his first album under the name Romeo released by Guitar Music and also in collaboration with GoDigital Music Group and UrbanDigital.
The same year, in December, to be precise, Romeo released another album titled "God's Gift".
Still partnering with his father, Romeo alongside his father created a non-explicit record label in 2007 which they named "Take A Stand Records"
They also formed a group tagged "Miller Boyz" in September 2007 and went ahead to release the album "Hip Hop History"
However, Romeo continued working on his solo career, recording several hit albums which includes "Gumbo Station" in 2008 and the album compilation "Get Low LP" which was released in March 2009.
Romeo established another record label in late 2008 named Next Generation Entertainment and during that time he worked with the group College Boyys.
The duo released their debut album in May 2010 titled "Spring Break", the album was a success selling over 30,000 copies on the early time of its release.
As of 2020, Lil Romeo's net worth is estimated to be about $5 Million.
Other ventures
Not only is Lil Romeo popular as a musician, but he had also ventured into acting. He made his first on-screen appearance in the 2001 film titled "Max Keeble's Big Move".
Later in 2003, he played his first major role in the film "Honey" starring alongside Mekhi Phifer, Zachary Isaiah Williams, and Jessica Alba
Some examples of other movies Romeo has starred in are popular movies like the 2006 movie "God's Gift", (2007), "ASL" (2007), " "Uncle P" in 2007, "Jumping the Broom"(2011), and the 2012 movie "Madea's Witness Protection".
He had also featured in the 2003 to 2006 Nickelodeon comic drama titled "Romeo!" where played the role of a fictionalized version of himself.
Furthermore, Romeo has also featured in some reality series an example is the competition reality show "Dancing With the Stars" which he made appearances in the 12th season.
Partnering with the popular dancer Chelsie Hightower in the competition, they came out top 5.
Other examples of reality he featured include the 2015 "The Millionaire Matchmaker", "The Challenge: Champs vs. Stars" (2017), and "Celebrity Fear Factor" ( 2018). Also, he has been the host of "Ex on the Beach" an MTV reality show since 2018.
Furthermore, Lil Romeo has indulged in several entrepreneurship ventures added to his entertainment career. In July 2010, he launched a clothing line which he called "College Boyys".
He has also acted as a brand ambassador for ICDC Colleges and McDonald's featuring in various notable commercials.
How Much Does Lil Romeo Make a Year?
In the initial stage of his career from 2001 to 2007, Lil Romeo acquired huge incomes. Unfortunately, his income rate dropped drastically when his career was slowed down as a result of him taking a pulse to attend college in 2007.
He bounced back however after finishing college, working hard so far to restore his income rate which was once over 2 million annually but dropped to about $500,000 per annum.
How does Lil Romeo make his money?
Having started music from an early age as a kid rapper, Lil Romeo earned quite some money. However, as a kid, his money was collected and managed by his parents.
There wasn't really any difference or concern because his dad Master P. was already a famous music star who was rich as well.
Romeo made millions of dollars from the release of his numerous albums and hit singles. He also went on tour and did private events that he was paid for.
As a rap, Romeo made lots of money recording and releasing various hit songs and studio albums. Hosting private events and going on tours also generated him lots of money.
Added to his career in music, Romeo started a career in acting, featuring in several television shows which include the movie "Honey" and Nickelodeon show "Romeo!" which also generated him a massive income
Although Romeo's income depreciated as he went to college, he has bounced right back and made money releasing more songs, modeling, and also featuring in commercials for top brands.
He also makes money from his record label "No Limit Forever" as he signs in various talented music star.
Finally, Romeo has a million-dollar clothing line which gave him over $50 million in the first year of its launch.
Lil Romeo net worth
As of 2020, Lil Romeo's net worth is estimated to be about $5 Million. He was able to amass this much through his successful career in music as well as other endeavors which include fashion, acting, and more.
Awards and nominations
As a young artist, Romeo's awards are somewhat few but yet prestigious. On his list of awards is the Kid's Choice Awards which he won once and also three Billboards Awards which includes the Rap Artist of the Year in 2001.
Romeo has also gotten several honorable award nominations like the Black Reel Award, Young Artist Award, and lots more.
Lil Romeo charity & philanthropy
Romeo has supported the following charities listed on this site:
Among other endeavors, Romeo has also indulged in supporting various charity organization some examples of charity he supported includes It's Time Kids and Food on Foot.
Lil Romeo Quotes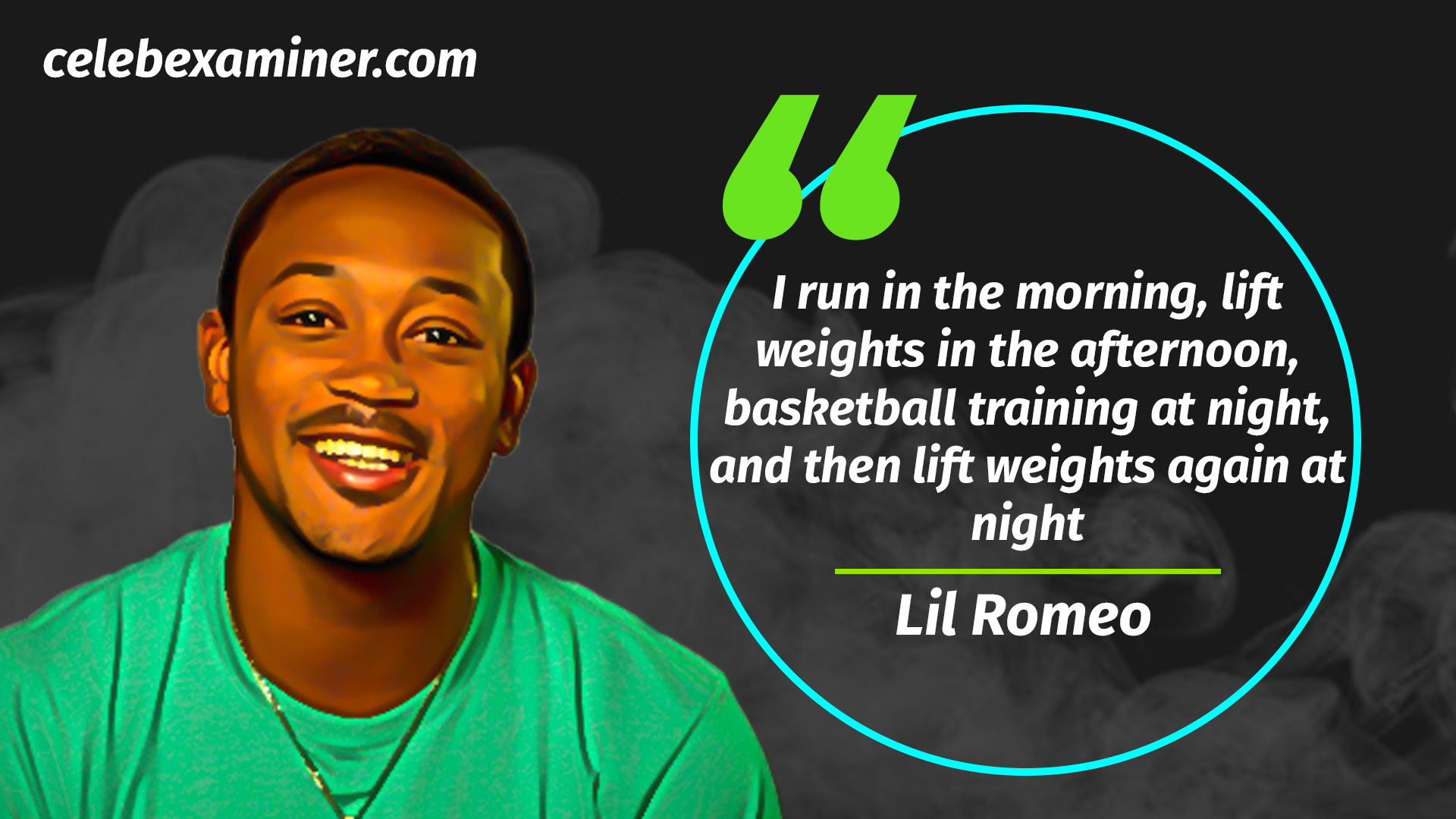 "I run in the morning, lift weights in the afternoon, basketball training at night, and then lift weights again at night."-Lil Romeo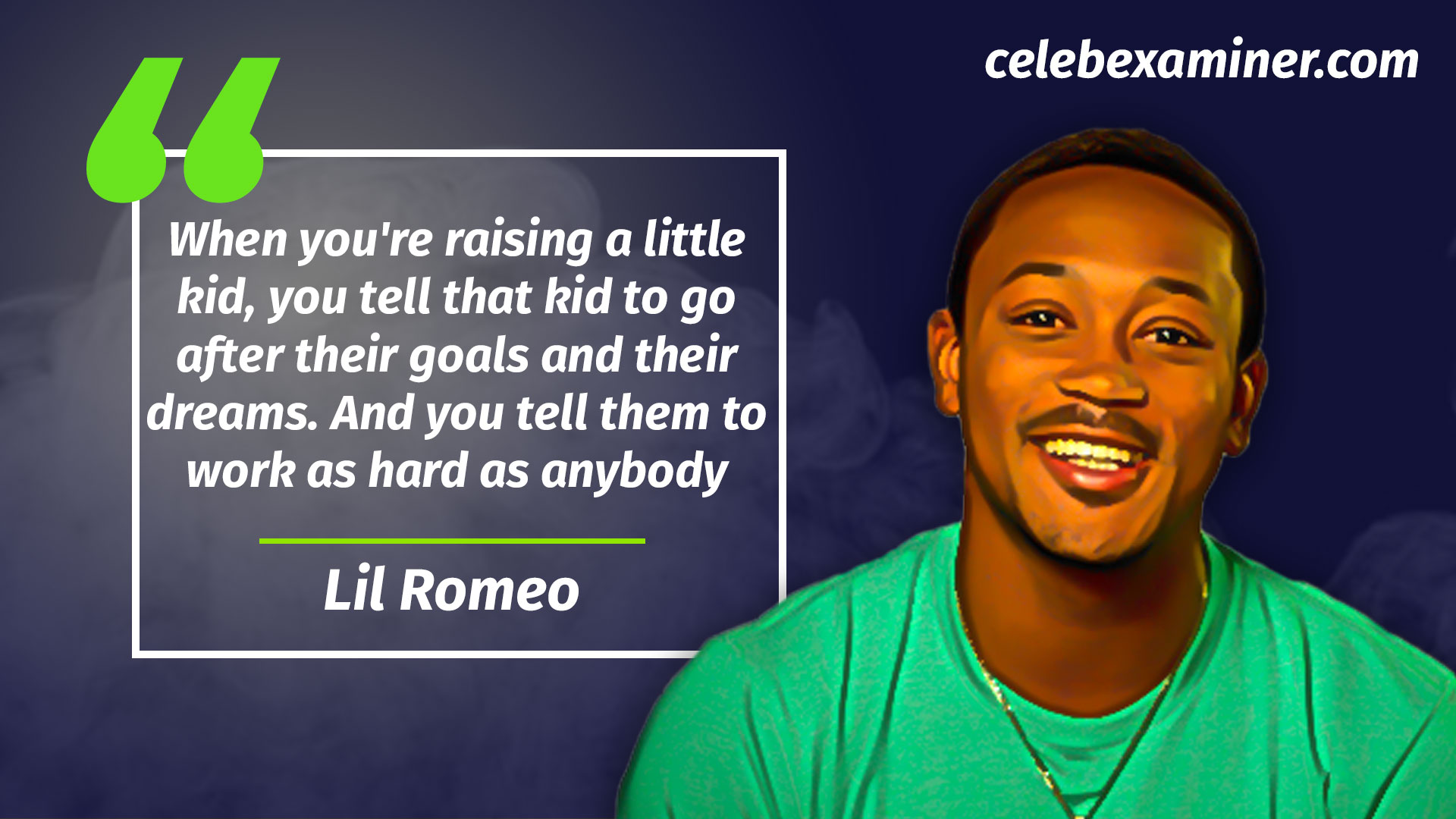 "When you're raising a little kid, you tell that kid to go after their goals and their dreams. And you tell them to work as hard as anybody".-Lil Romeo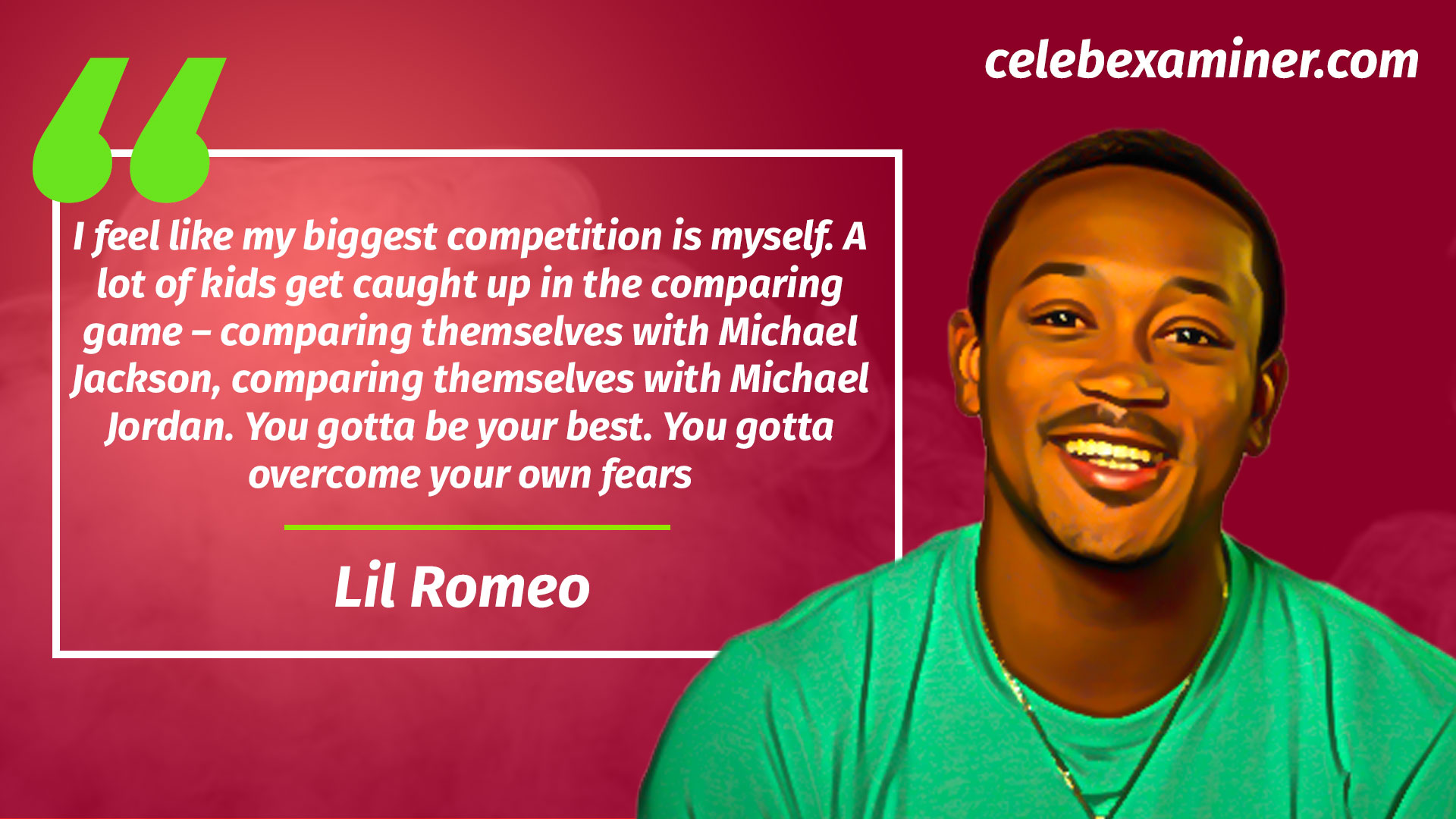 "I feel like my biggest competition is myself. A lot of kids get caught up in the comparing game – comparing themselves with Michael Jackson, comparing themselves with Michael Jordan. You gotta be your best. You gotta overcome your own fears." – Lil Romeo
"With technology, you can now be your own record company, director, producer, etc. If you have talent, you can display it on the Internet and the world will tell you their thoughts in the matter of seconds!" – Lil Romeo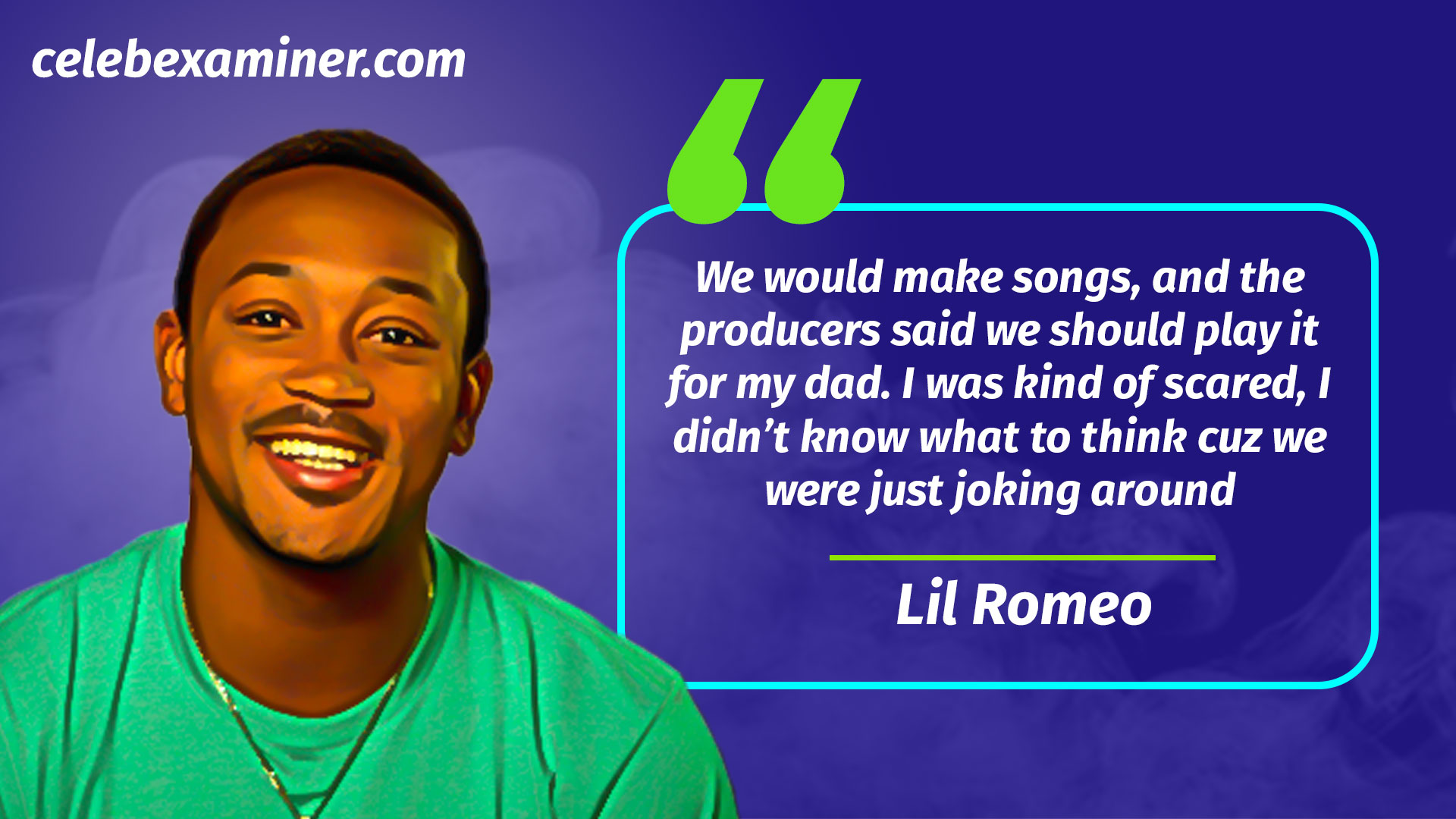 "We would make songs, and the producers said we should play it for my dad. I was kind of scared, I didn't know what to think cuz we were just joking around." – Lil Romeo
3 Inspirational Lessons from Lil Romeo
After a thorough review of Lil Romeo's net worth and all that is to know about his career so far, below is some notable lesson that is to be learned from him and his success story.
Success is achievable
Don't ever give up, keep chasing your dreams, and moving forward. Success is definitely achievable it all depends on you and how willing you are ready to pursue it.
Pain is at times inevitable
Most of the time we can't totally avoid going through pain. For that reason, be determined and always thrive to overcome your pain because the more pain you overcome, the stronger and wiser you become.
The experience us most time what it and when you gave successfully overcome, you realize there was a notable lesson learned.
Plan your life
It is ideal and wise to set out goals and plans on what you intend to achieve. Take out time, find a quiet place, think, and layout a well-calculated plan for achieving the success of your desire.
Summary
Born into a family of rap stars, Romeo Miller is a young celebrity who can into the limelight from an early age. He is popularly known for being a rapper and has made a name for himself in the music industry.
He also has other interests like fashion which made him establish the clothing line "College Boyys."
Lil Romeo's net worth is estimated to be $20 million as of 2020.
Do leave a comment below on your thoughts on Romeo Miller net worth