Rae Sremmurd net worth
| Net Worth: | $12 Million |
| --- | --- |
| Source of Wealth: | Professional Singers |
| AGE | |
| Slim Jxmmi: | 28 years old |
| Swae Lee: | 24 years old |
| DATE OF BIRTH | |
| Slim Jxmmi: | December 29, 1991 |
| Swae Lee: | June 7, 1995 |
| Nationality: | United States of America |
| Last Updated: | 2020 |
Rae Sremmurd is a musical composition which comprises of two hip-hop/rap star brothers by name Slim Jxmmi and Swae Lee with a net worth of about $12 Million.
This musical composition of two talented brothers is popularly known for their hit single titled 'Black Beatles.'
Also, popularly known for its 2015 debut album platinum certification, this duo has risen to fame over the years and is widely recognized as icons in the music industry.
Rae Sremmurd's net worth is estimated to be about $12 million as of 2020.
Early Life
The Rae Sremmurd brothers Slim Jxmmi and Swae Lee were both given birth to in the city Whittier, California, the USA with the birth names Aaquil Iben Shamon Brown and Khalif Malik Ibn Shaman Brown respectively.
A few years after their birth, they were abandoned by their father and was left with their mother Bernadette Walker, and brother, Micheal who they grew up alongside with.
While growing up, the Rae Sremmurd brothers relocated on several occasions from California to Mississippi, Maryland, and later settling in for Texas at the military post of Fort Hood.
The several relocations were due to the fact that their mother worked for the army and was severally stationed to different states.
At an early age, the Rae Sremmurd brothers took a liking to music which got them writing songs and practicing dancing at a tender age.
Moreover, at the age of 10 while in Texas, Swae Lee of Rae Sremmurd learned how to produce music using Fruity Loops.
Their mother later left the army while they were in middle school which got them relocating back to Mississippi to live with their stepfather who their mother Bernadette's newly got married to at that time.
While in Mississippi they lived in the city of Tupelo, in the notorious Ida Street housing projects where their stepfather's house was located.
Their mother later had a son with their stepfather named Floyd Jr. Sullivan. Moreover, their stepfather had sold drugs to take care of the family and keep the kids in school.
Rae Sremmurd Career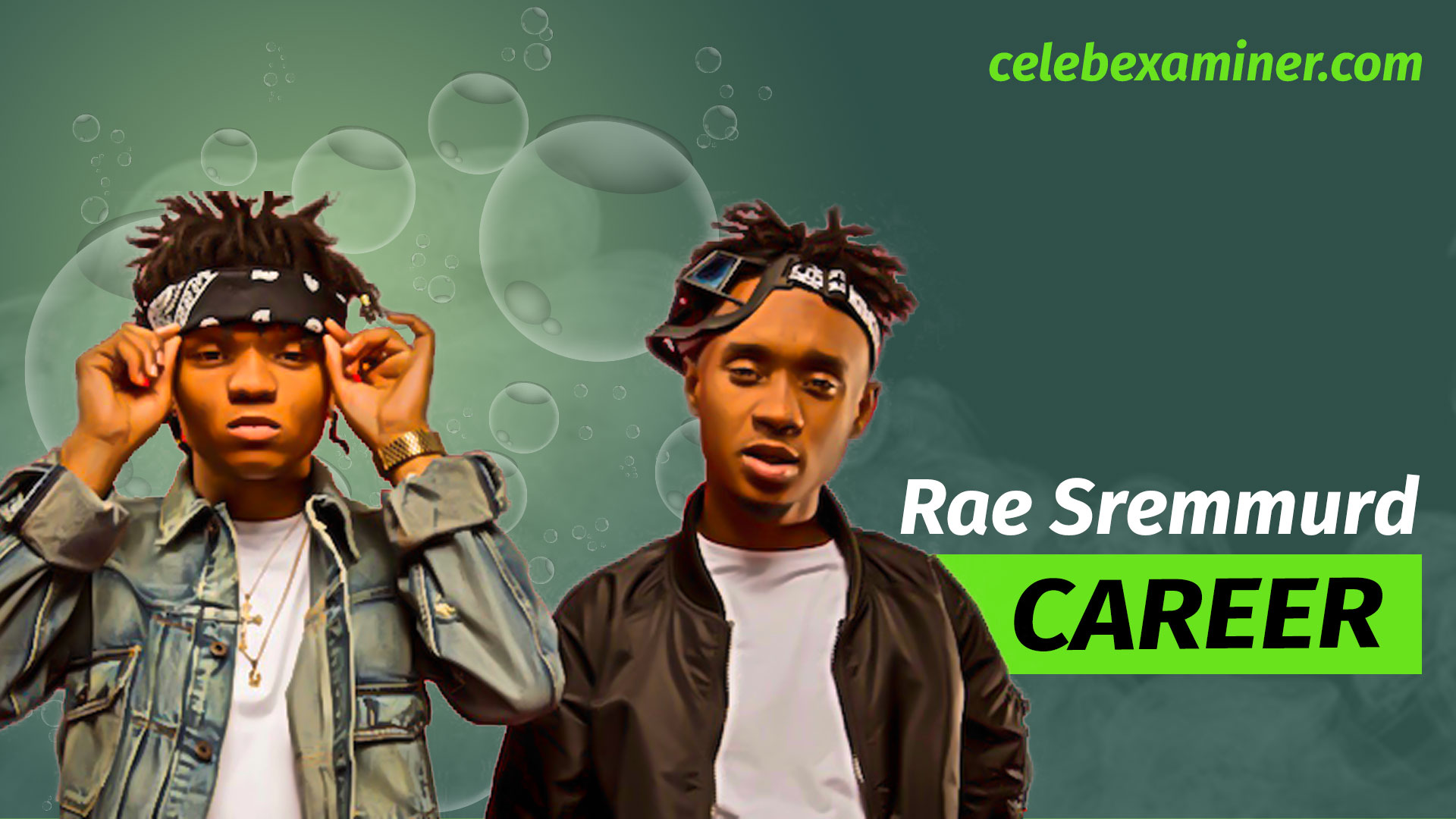 Rae Sremmurd brothers initially started their music career playing under the duo name Dem Outta State Boyz.
Later on, they decided to take their music career to another level by moving to Atlanta where there was allegedly many stars Hip Hop artist as well as producers.
Their relocation was however a profitable one as they got to meet their first producer who decided to assist them in Atlanta.
Their venture in Atlanta started off under the popular music producer Mike Will Made-It, which later got them signed into the Ear Drummers Entertainment where they got their first music deal.
The duo name Rae Sremmurd was instigated in honor of the first deal they signed and the label they signed under.
The name Rae Sremmurd was gotten from simple spelling the name of their first record label "Ear Drummers" backward.
Ever since then, the rap star has stuck with the name Rae Sremmurd which they are now popularly known by in the music industry.
Rae Sremmurd's first two albums were recorded under the record label Ear Drummers though not making many sales due to poor marketing.
Given the fact that the Rae Sremmurd brother's first two albums weren't as successful as expected, they had to make various major changes.
In 2014, they had their first hit single titled "No Flex Zone" which amassed number 35 on the Billboard Hot 100 of 2014.
The success of the single "No Flex Zone" was a huge career boost for Rae Sremmurd, it drew the attention of many, and not long after they released another hit single titled "No Type".
The single "No Type" was yet another success peaking 16 on the Billboard Hot 100 and gaining them quite a lot of popularity which got them releasing two albums at a stretch under the Ear Drummers record label which they titled Sremmlife and Sremmlife 2 respectively.
Later on, in 2015, the Rae Sremmurd released another album titled Balck Beatles, still under the Ear Drummers record label.
They have honored the Ear Drummers record label in several ways for believing in them from the onset and giving them a chance as they keep recording new songs and performing their previous songs in various concerts.
As of 2020, Rae Sremmurd net worth is estimated to be about $12 Million.
Awards & Achievement
The duo Rae Sremmurd won the Billboard Music award in 2017, they have also won the Black Entertainment Television with several nominations in different seasons.
They have also been nominated for several Bet Hip Hop awards and are very qualified to win more awards in the future.
Rae Sremmurd Net Worth
Rae Sremmurd net worth is estimated to be about $12 Million as of 2020. The duo was able to acquire this much through their successful career in the entertainment industry.
The duo has a promising career with a high tendency of acquiring more wealth and increasing their net worth in the years to come.
Rae Sremmurd Quotes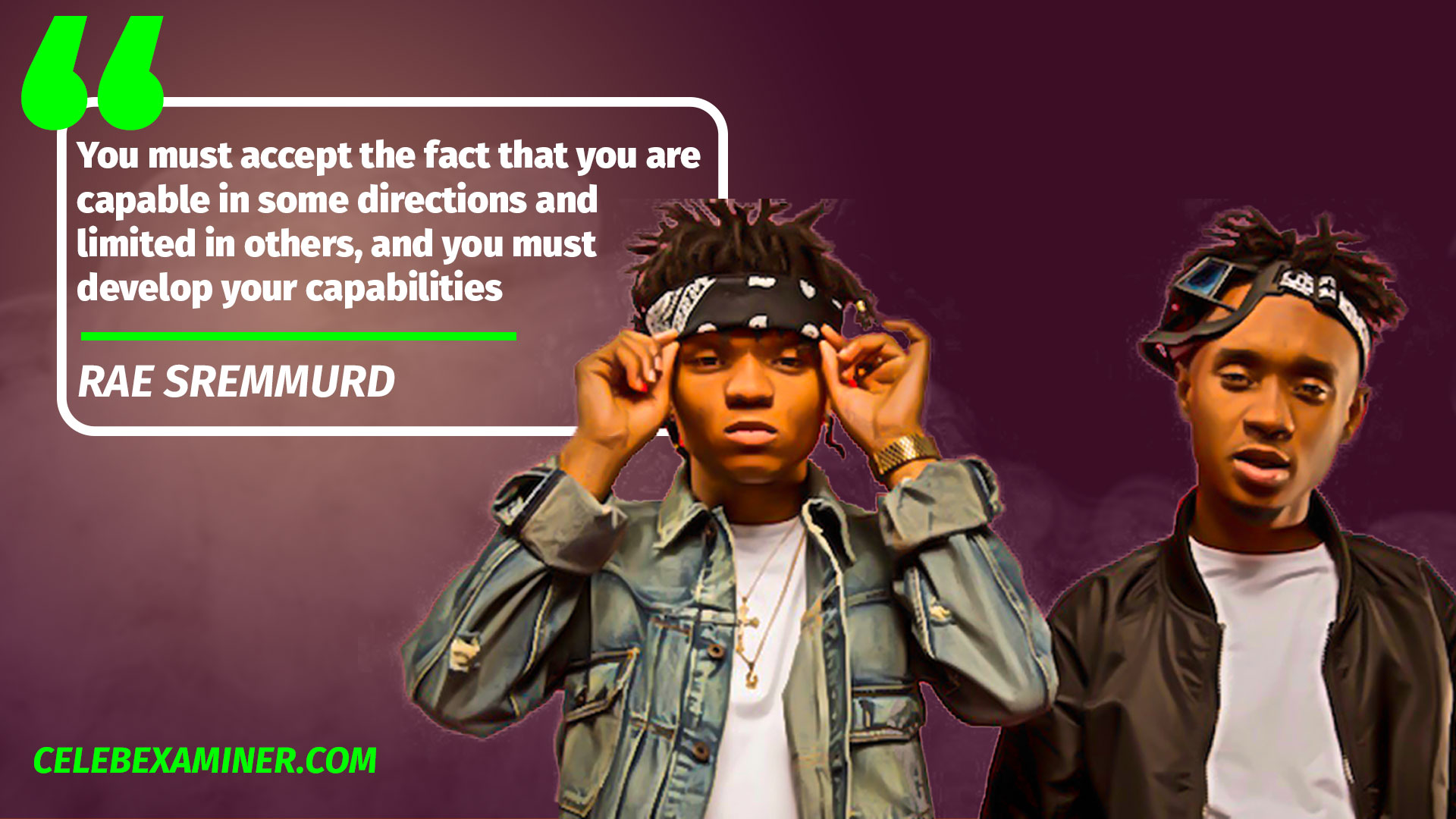 "You must accept the fact that you are capable in some directions and limited in others, and you must develop your capabilities."-Rae Sremmurd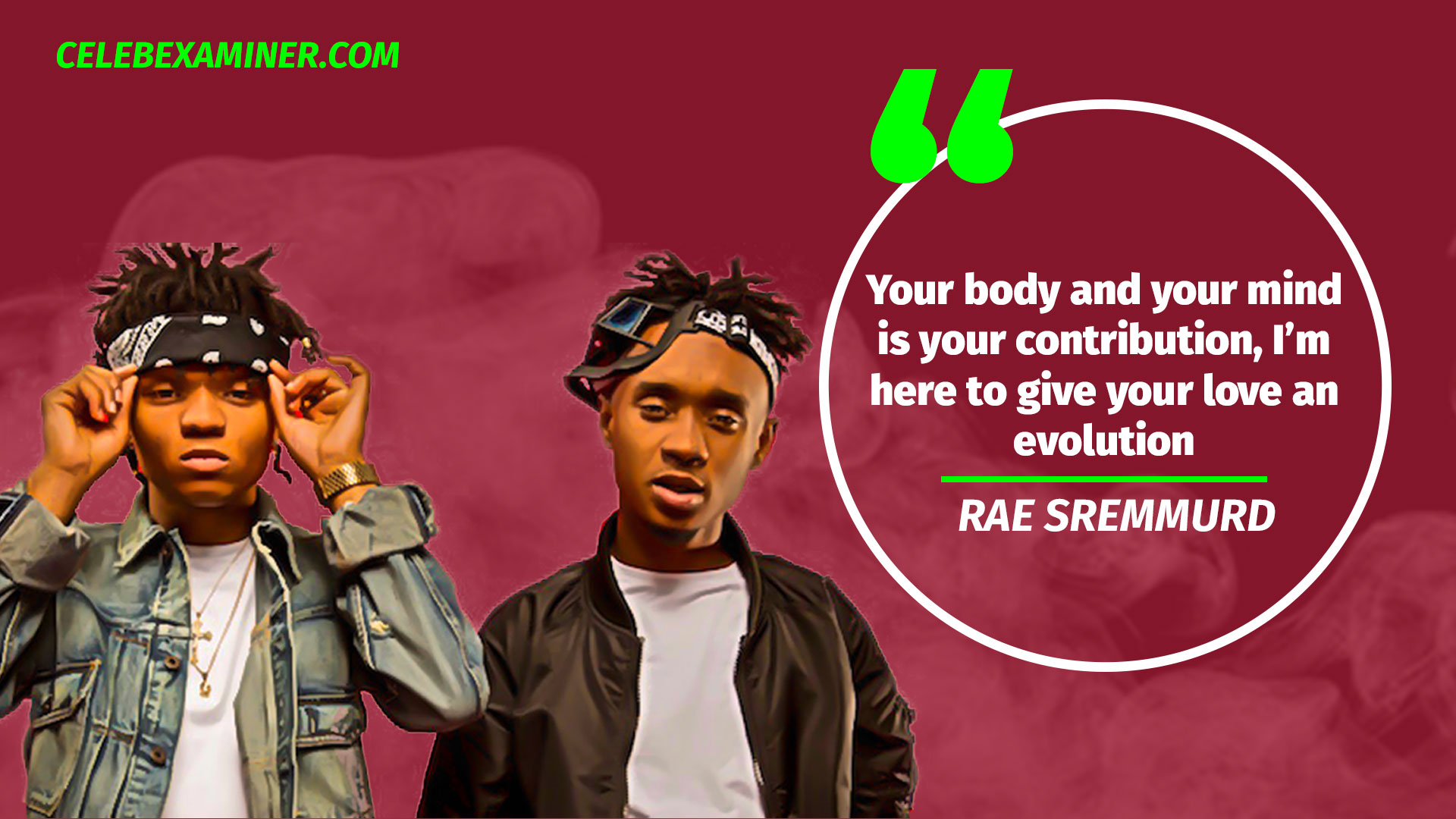 "Your body and your mind is your contribution, I'm here to give your love an evolution."-Rae Sremmurd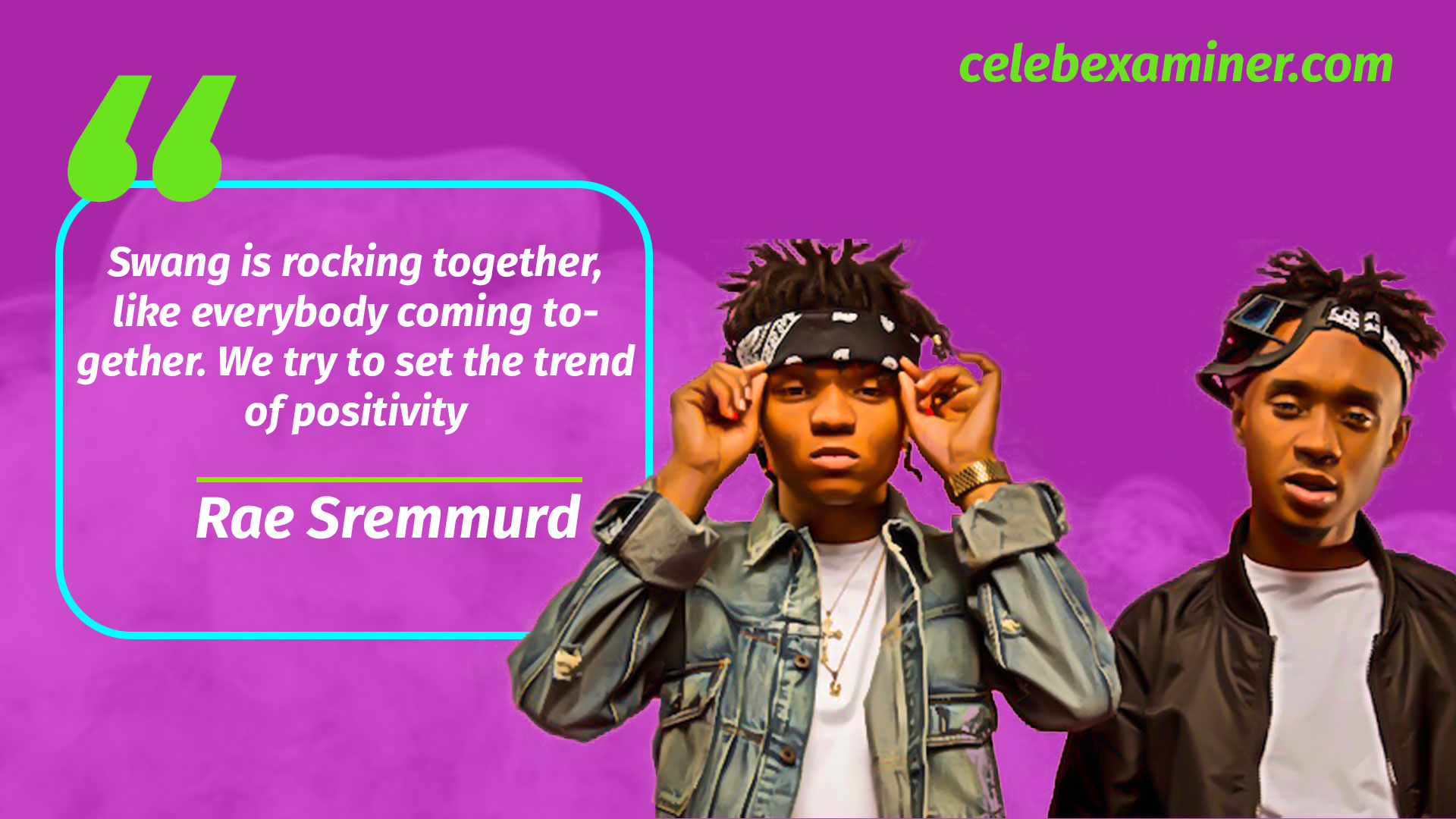 "Swang is rocking together, like everybody coming together. We trying to set the trend of positivity."-Rae Sremmurd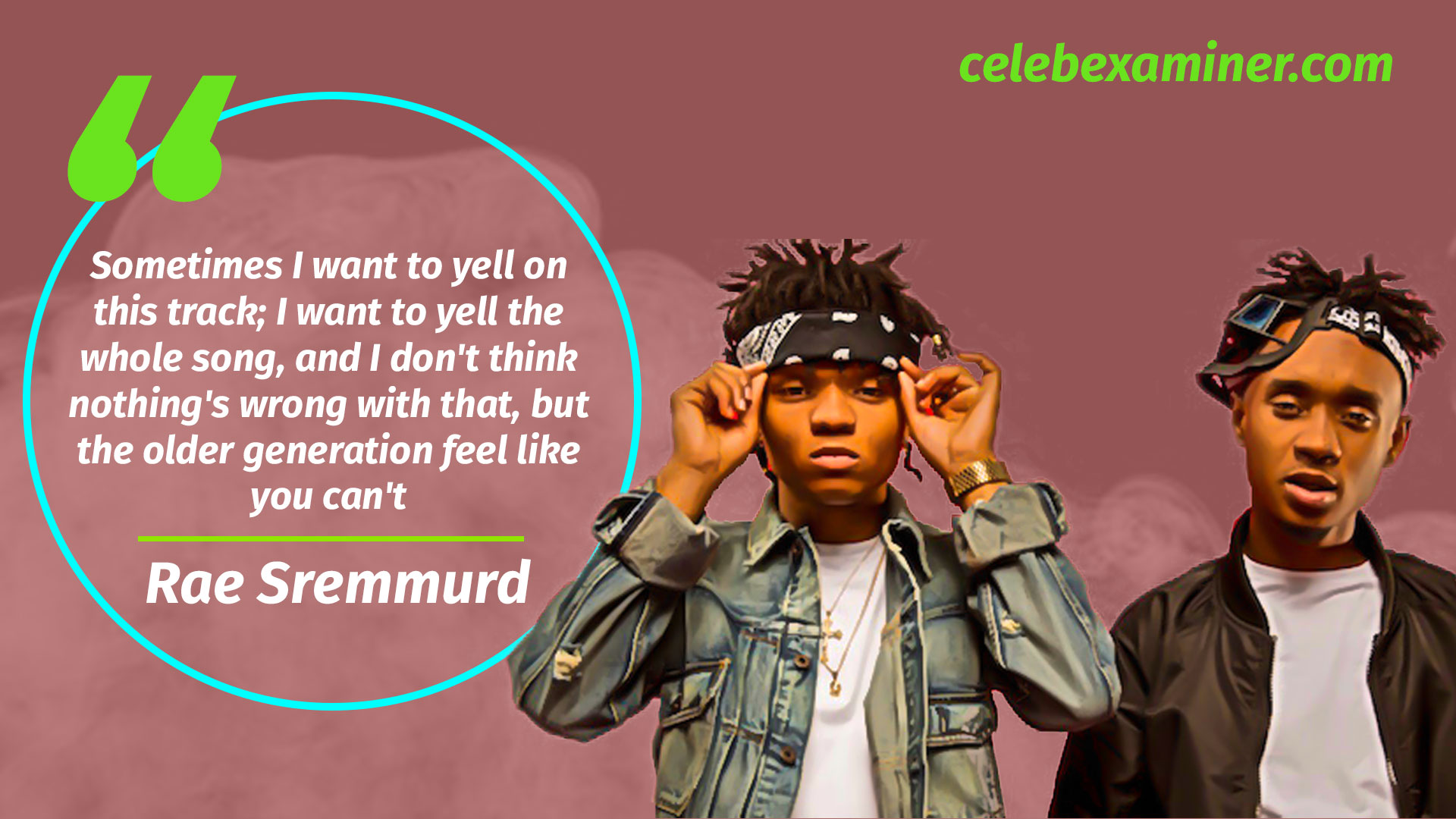 "Sometimes I want to yell on this track; I want to yell the whole song, and I don't think nothing's wrong with that, but the older generation feel like you can't."- Rae Sremmurd
"You can have nothing and be sad, or you can have nothing and be, like, positive and look at it in a good way and try to make your circumstance better"-Rae Sremmurd
3 wonderful lesson from Rae Sremmurd
After a thorough review of Rae Sremmurd's net worth and all that is to know about their career so far, below is some notable lesson that is to be learned from them and their success story.
Work hard
You can't achieve great success and fame without putting in the proper work. Hard work is a principle tool that brings about great and successful individuals therefore you should work hard if you intend on achieving your desired goal.
Happiness is the priority
The aim of achieving great success is to get happiness this makes it the most important thing. As long as you are happy, it doesn't matter what people say or think about you.
Do what makes you happy and pleases with you not what takes away you happiness and pleases others.
Always think positive
Having a positive mindset validates everything around you. No matter the circumstances, if you are positive at heart everything gets better.
Positivity helps you focus on the good and takes your mind away from the bad, for this reason always stay positive.
Summary
Rae Sremmurd is a popular hip-hop/ rap music duo made up of two brothers who has achieved a huge amount of success and fame in the few years of their inception having acquired a total net worth of about $12 Million so far.
What are your thoughts on Rae Sremmurd Net Worth, drop a comment below.