What is Steve Perry Net Worth?
| Net Worth: | $60 million |
| --- | --- |
| Source of Wealth: | Singer and a Songwriter |
| Date of Birth: | January 22, 1949 |
| Country of Origin: | United States |
| Last Updated: | 2023 |
Steve Perry Net Worth: Steve Perry is an American singer/songwriter with an estimated net worth of $60 million. He took the world by storm with his ex-bandmates of Journey.
During his time with Journey, they received worldwide recognition as well as three Grammy nominations. Since he parted ways with his bandmates, Steve has released four studio albums and one EP.
Steve Perry is a charitable person. He has given back to charity in several ways through his Steve Perry Foundation.
Early Life
Steve Perry is an American singer/songwriter born on January 22nd, 1949, to Portuguese parents Raymond Perry and Mary Quaresma.
Raymond owned a radio studio called KNGS, and he was also a singer. Growing up and watching his father sing, an interest in music was sparked in Steve.
Steve became a singer at 12 after his parents parted ways in 1957 when he was just 8. He made this decision after listening to Cupid, a hit song by late American singer Sam Cooke.
Steve Perry started out with a group called Ice before he formed a band called Pieces. They later disbanded due to their inability to sign a recording deal with a recording company. Members of this band were; Denver Cross, Tim Bogert, Eddie Tuduri, and Steve himself.
When hopes and chances of forming a band and signing a recording deal got slimmer, Steve thought about quitting music.
Luck shone on him when a band called Journey proposed an offer. Steve was reluctant to join this band, but after various persuasions from his mother, Steve became a member of Journey.
Career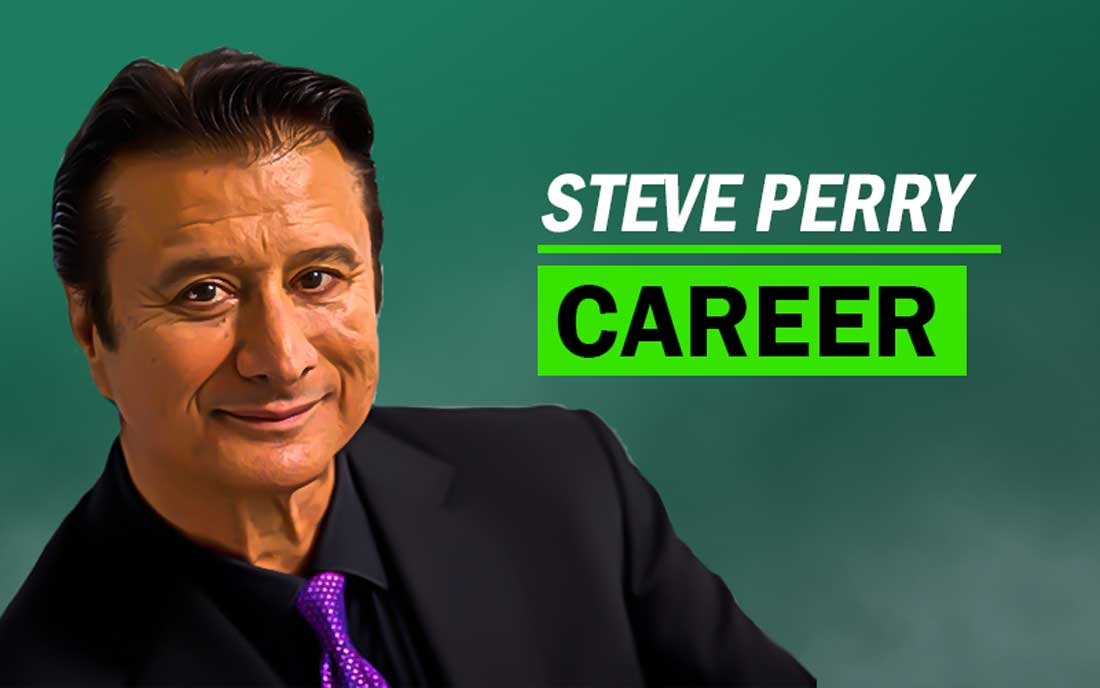 Steve Perry's Journey in music wasn't a bump-free ride. His first band, Ice, was formed with a 16-year-old called Scott Matthews.
Steve was in his early 20s at that time, and he sang most of the songs while Matthews played the guitar and drums. They had to disband because they couldn't sign a recording deal with a record label, and no one listened to their tracks.
Steve strived on and became a part of a new band called Pieces. This band also wasn't able to get a record deal with a record label, and they had to disband. When Perry was in his mid-20s, he joined a rock band called Alien Project. This band was doing well till its bassist passed on in a car crash.
Steve returned to his home in Lemoore after this devastating incident, and just when his hopes for music were beginning to fade, Perry received a call from Walter Herbert, who was the manager of Journey at that time.
Steve was initially reluctant about joining the band, but after persuasion from his mother, he became a part of Journey. In October 1977, Steve made his public debut with Journey.
Perry was an influence on Journey's sound. His inclusion of pop into Journey helped them gain wide attention from fans all over the world.
Steve Perry net worth is estimated to be $60 million as of 2023.
Career Highlights
1978-1996 – Albums Infinity, Departure, Evolution, Dream, After Dream,  Escape, Captured, Frontiers, Raised on Radio, and Trial By Fire.
1985 – Singers on the USA for Africa all-star benefit song, We Are The World.
1987 – Featured in Sirius, by Irish folk-rock group Clannad,
2017 – Appeared in the band's induction into the Rock and Roll Hall of Fame.
2023 – Confirmed an appearance in Dolly Parton's upcoming track album and a duet cover of Open Arms on the same album.
Personal Life
Steve hasn't shared much about his childhood. He has shared that he passed through things (not related to his parents) during his childhood but hasn't disclosed any further, stating that they were things he couldn't talk about. He has, however, written them down in his songs.
Steve Perry's hit song, Oh Sherrie, which was released in 1984, was written for his love, Sherrie Swafford, whom he dated in the 80s. Steve also dated a psychologist, Kellie Nash, in 2011.
Kellie was a breast cancer survivor who later passed on in December 2012, leaving Steve heartbroken. He has also spoken about his daughter, Shamila, whom he had with a woman he dated in his early 20s
Awards & Achievements
Steve Perry and his ex-band mates have been nominated for 3 Grammys. They were nominated in 1982 in the Best Rock Performance by a Duo or Group with Vocal category; their album was nominated for Album of the Year in 1985.
In 1996, they were nominated again in the Best Pop Performance by a Duo or Group with Vocal category.
Steve Perry Net Worth
Steve Perry net worth is estimated to be $60 million. While Steve was still with the band Journey, he made a huge fortune. Although he has retired from music.
Steve also released albums when he parted ways with his band, but the money earned from his albums cannot be compared to that of Journeys.
Charity
Steve Perry Foundation is a nonprofit charity organization formed by Steve Perry. Through this foundation, Steve carries out charitable deeds.
In a Christmas Charity Event held by The Hanford Chamber of Commerce, Steve Perry showed just how kind-hearted he is by donating an extra $1000 to the organizations.
Notable Steve Perry's Quotes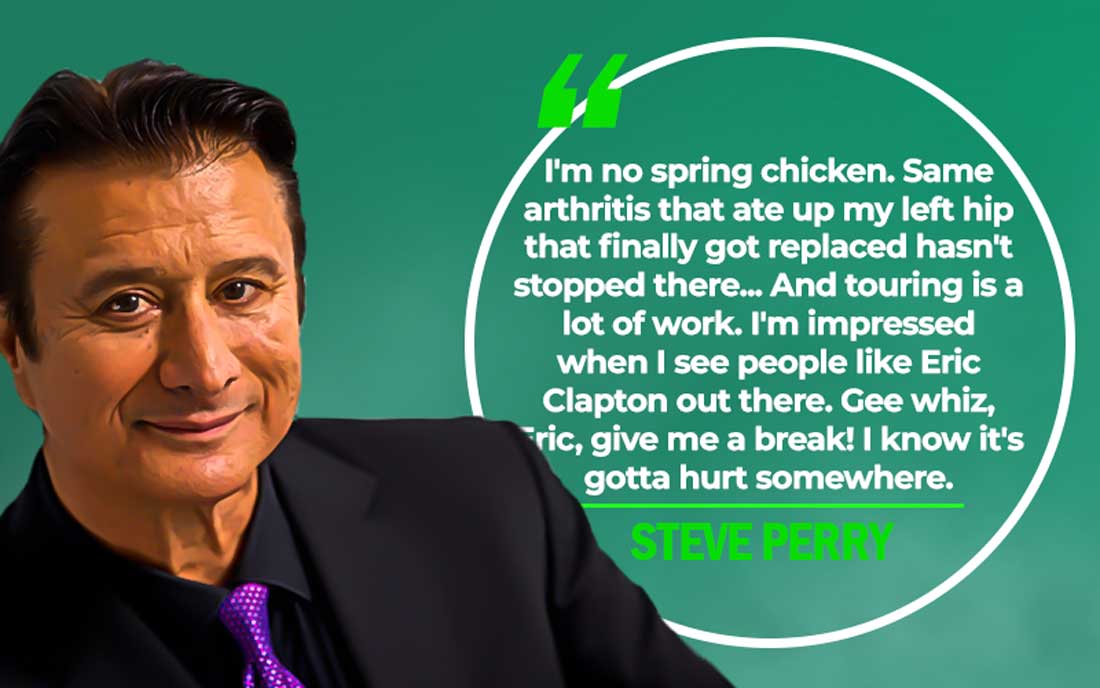 I'm no spring chicken. Same arthritis that ate up my left hip that finally got replaced hasn't stopped there… And touring is a lot of work. I'm impressed when I see people like Eric Clapton out there. Gee whiz, Eric, give me a break! I know it's gotta hurt somewhere. – Steve Perry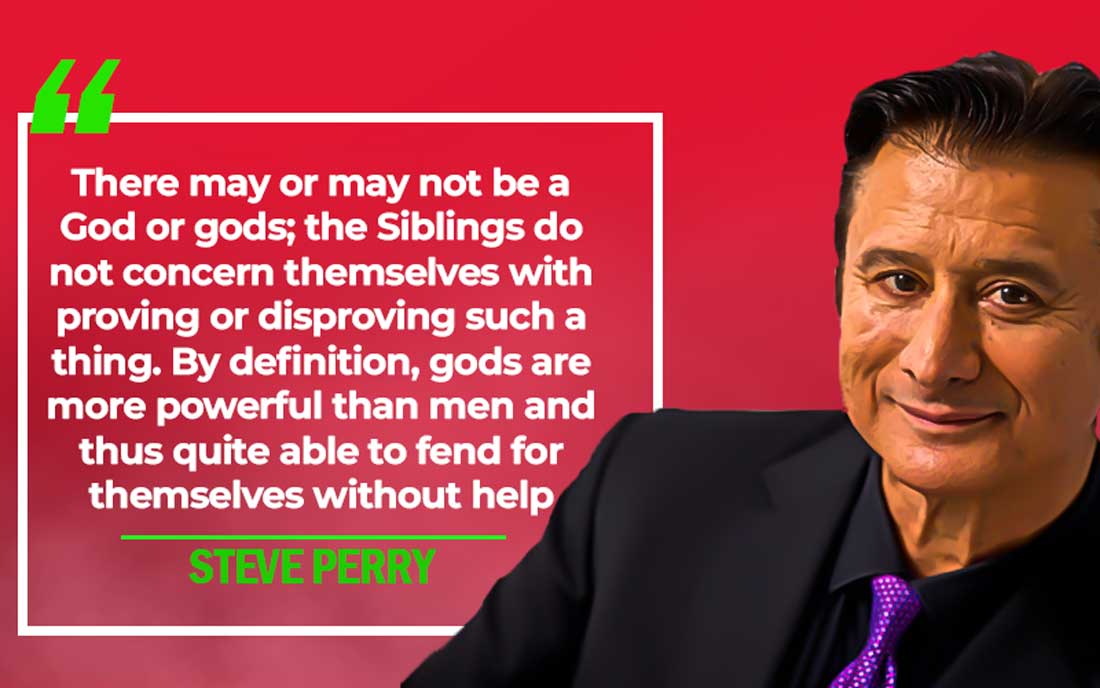 There may or may not be a God or gods; the Siblings do not concern themselves with proving or disproving such a thing. By definition, gods are more powerful than men and thus quite able to fend for themselves without help. – Steve Perry
Life Lessons to Learn From Steve Perry's Success
1. Service to Humanity
Steve Perry owns a charity foundation called The Steve Perry Foundation. This is one of Steve's ways of giving back to society. In any way possible, and no matter how little, be a helping hand to people.
2. There's light at the end of the tunnel
Steve's patience was tried so many times at the beginning of his career. Just when he thought about quitting, an offer came up. Life is full of ups and downs, but no matter how many times we are faced with life's hurdles, always remember hard times do not last forever; there's light at the end of every tunnel.
3. Be intentional
Just like Steve, be intentional about your growth. Work towards your goals deliberately, and no matter how many times you fail, stay persistent.
Frequently Asked Questions – Steve Perry Net Worth
Does Steve Perry have children?
Steve has shared little details about his daughter, Shamila. He had Shamila with a woman he dated for a short time in his early 20s. There aren't many details about her as she seems not to draw so much attention to herself.
Why did Steve Perry leave Journey?
Steve suffered from a degenerative bone condition and required hip replacement, but he was unwilling to go into surgery immediately.
Journey was set for a tour at the time of the news, and Steve wanted the tour postponed. His members had to wait for nearly a year and five months before deciding to go without him in 1998.
How does Steve Perry still have money?
Perry is entitled to a certain percentage from the works of his previous band, Journey. He receives payments for each tour by Journey. He received 50% after their first two tours without him, 25% after the third tour, and 12.5% for subsequent tours.
Does Steve Perry still sing?
Steve Perry still sings. He has released four solo albums and one EP in the past years, with the most recent one being a Christmas-themed album called The Season.
Final Thoughts
Steve Perry is a music legend. He was a member of Journey, a rock and roll band that put their names on the world map through their music.
Steve may no longer be a member of Journey, but he still remains a music prodigy. To find out more about Steve Perry in recent news, keep checking this space for updates.
As of 2023 Steve Perry net worth is estimated to be $60 million.
What are your thoughts on Steve Perry's net worth? Drop them in the comment section below.