How much is Joey Badass worth?
| Net Worth: | $5 Million |
| --- | --- |
| Source of Wealth: | Professional Rapper |
| Age: | 25 years old |
| Date of Birth: | January 20, 1995 |
| Country of Origin: | United States of America |
| Last Updated: | 2021 |
Joey Badass Net Worth: Joey Badass is an American rapper, actor, and record producer who has a net worth of $5 Million. He is popularly known to be one of the founders of a hip-hop collective group from Brooklyn called "Pro Era".
Joey Badass music pattern is centered on socio-political issues and also some insightful street tales.
Joey Badass net worth is estimated to be $5 million as of 2021.
Joey Badass: Early life
The American rapper Joey Badass was born on the 20th of January 1995 in the East Flatbush section of Brooklyn, New York City. At birth, he was given the name Jo-Vaughn Virginie Scott; however, he is known worldwide by his stage name Joey Badass.
Born into a Caribbean family that originated from the island of St. Lucia, Joey badass was the first child of his mother and father, who is Jamaican.
Joey badass grew up in Bed-Stuy alongside his siblings, where he attended the Edward R. Murrow High School.
Initially, he wanted to study acting but later, towards 9th grade, he switched to music(rap) in Edward R. Murrow High School.
As a young rapper, he started off rapping under the stage name "JayOhVee," but later he decided to go by the name Joey Badass instead with reasons that rappers who go by more cynical names mostly gets the attention of the media and that the name sounded cool.
Joey established that he started his venture into music at an early age of 11, writing poetry and songs.
In high school, alongside his two friends Capital Steez and Powers Pleasant, they established the music collective called Pro Era(progressive era).
Joey Badass: Career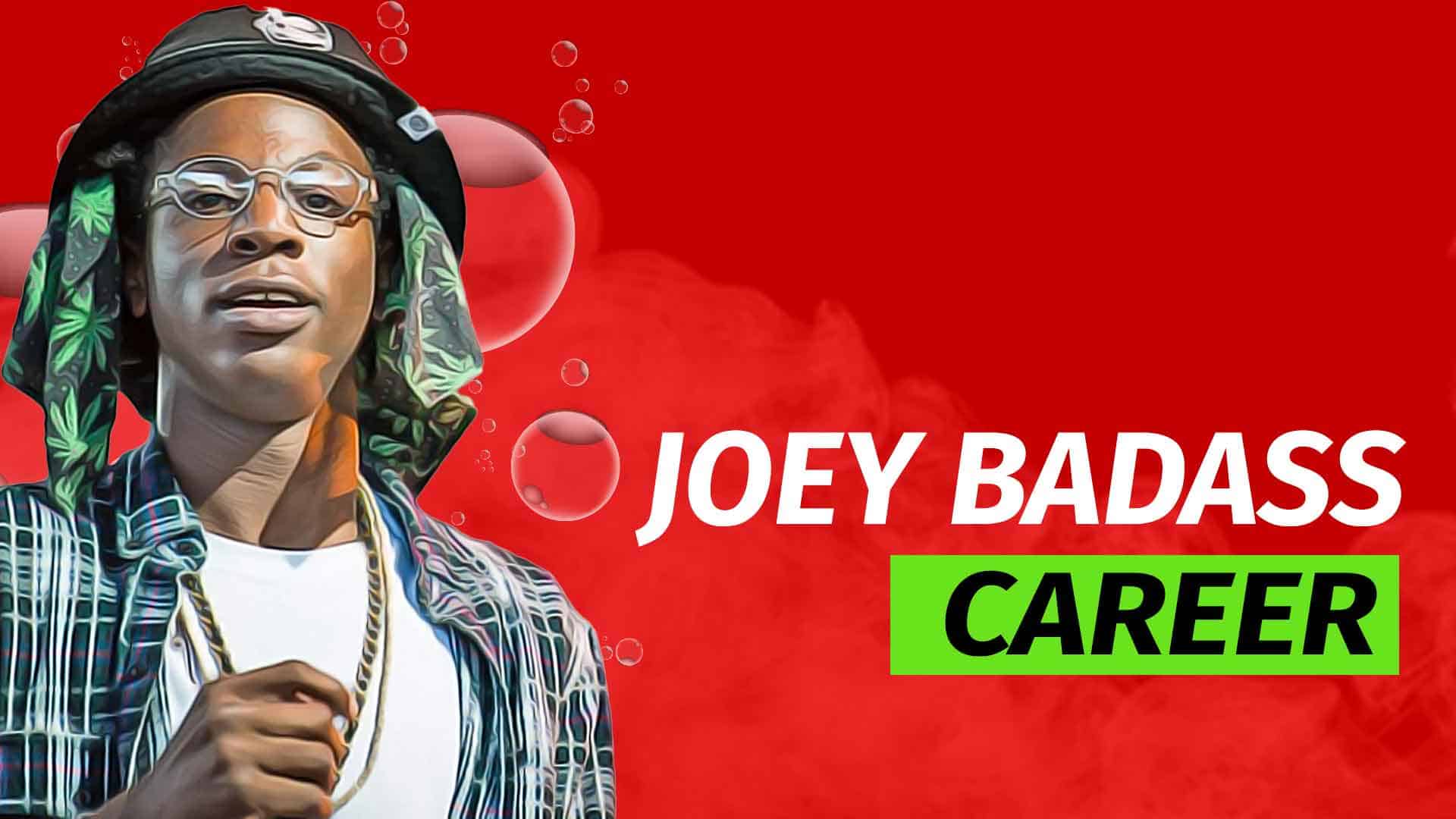 Joey Baddass career officially began and skyrocketed in the October of 2010 after he released a video on YouTube, which automatically went viral.
The video was re-uploaded again by World Start Hip Hop, which made it catch Jonny Shipes's attention: the Cinematic Music Group president. Jonny Shipes contacted Joey and became his first manager.
Moreover, Joey Badass had created the music band 'Progressive Era' also called 'pro era' alongside his friends Powers Pleasant, CJ Fly, and Capital Steez.
The band "Pro Era" released their first mixtape in February 2012, which they titled "Secc$ Tap.e"
Still, in 2012, Joey Badass worked in collaboration with capital Steez to release the video for Survival Tactics in their YouTube channel named "PROfckingERA".
On the 12th of June of 2013, Joey Badass released his first solo studio single, which he titled "1999" and after that, on the 6th of September, he released another single titled "Rejex."
After the release of "Rejex," Joey Badass appeared on the rapper Mac Miller's radar, who reached out to Joey with intentions to work in collaboration to release a song.
This, however, came to reality as Mac Miller featured Joey Badass in the song titled "America," which was part of Mac Miller's mixtape "Macadelic."
Joey Badass was the opener for Mac Miller in the Roseland Ballroom in April 2012. And later, in the same year, Joey's music band Pro era released their second mixtape titled "P.E.E.P: The apocalypse."
Before its release, Joey had collaborated with Ab-Soul to release the song "Enter the Void," produced by Lee Bannon on the 9th of November.
So far in his career, Joey Badass has officially released two studio albums. His official debut album titled "B4.DA.$$" was released in 2015, and his second album, titled All-Amerikkkan Bada$$, was released two years later in 2017.
Also, Joey Badass has a career in acting. He featured in the 2014 movie titled "No Regrets," playing a role of himself. He also featured in the 2016 series "Mr. Robot," where he played the character named Leon.
Joey Badass Net Worth
Joey Badass net worth is estimated to be $5 million as of 2021. He was able to acquire this much through his successful career in music and other endeavors.
He makes most of his money as a music star by selling albums and mixtapes, going for tours and concerts, and brand endorsements.
Also, Joey Badass has a solo career in acting, which has also earned him lots of money as he appears in several popular movies and TV series.
Joey Badass Car Collection
Joey Badass has a luxurious lifestyle with different kinds of expensive cars from famous car brands. His car collection includes a Mercedes SL500 vintage car, a Ferrari, and several other expensive vehicles.
Personal Life
The American rapper Joey Badass has not been in any relationship as far as the public and media know. He has not yet had any girlfriend known to the public, and not much is known about his family and personal life.
However, it is known that aside from music, he has a great passion for skateboarding, which he features in most of his music videos.
Concerning his social media life, Joey Badass is most active on Instagram, Facebook, and YouTube.
Although he has no personal YouTube channel, he uploads his songs and music videos through the official YouTube channel of the music band ProEra.
Joey Badass also has a Twitter account, though not very active on this platform. He has over 2million followers on Instagram, and on Facebook, he has above 800k fans and followers.
Awards And Nominations
As a fast-rising artist, Joey badass has won and also gotten award nominations. In 2013, his hit single titled "Himself" was nominated for the category of best new artist in the BET awards.
He was also nominated in the BET Hip Hop Awards for the category of Rookie of the year, still in 2013.
Finally, in 2016, Joey Badass single "Himself won the BMI R&B/Hip-Hop Awards in the category of Social star.
Endorsements
As a known music star, Joey Badass has endorsed several renowned popular brands, including Calvin Klein, Adidas, Crooks and Castles, American Eagle Outfitters, and Billionaire Boys Club.
Joey Badass Charity Works
Joey Badass has been involved in quite some charity works; the most popular and recent is the $25,000 he donated to support homeless students in New York City during the COVID-19 crisis in May 2020.
Joey Badass Quotes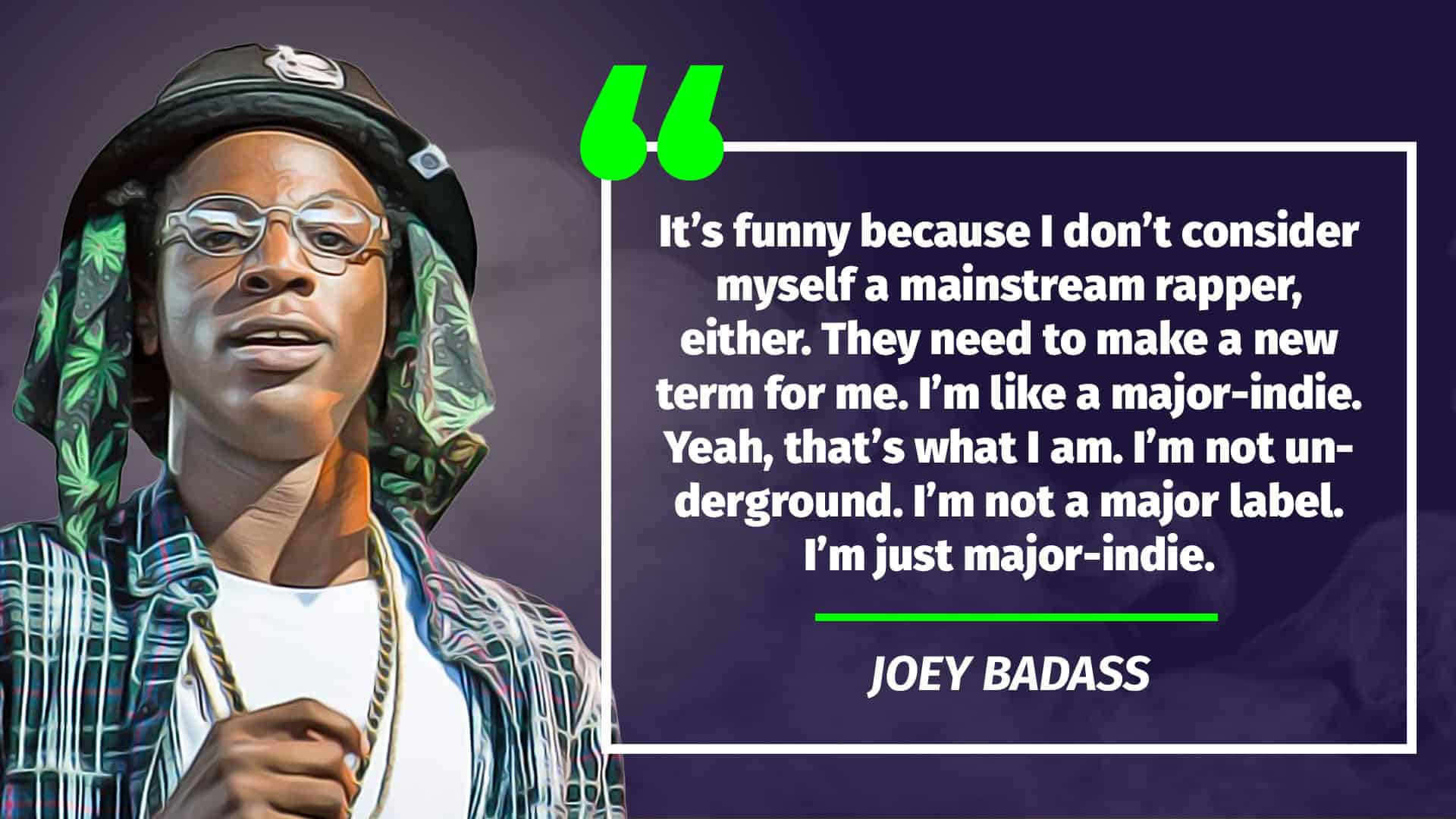 "It's funny because I don't consider myself a mainstream rapper, either. They need to make a new term for me. I'm like a major-indie. Yeah, that's what I am. I'm not underground. I'm not a major label. I'm just major-indie." – Joey Badass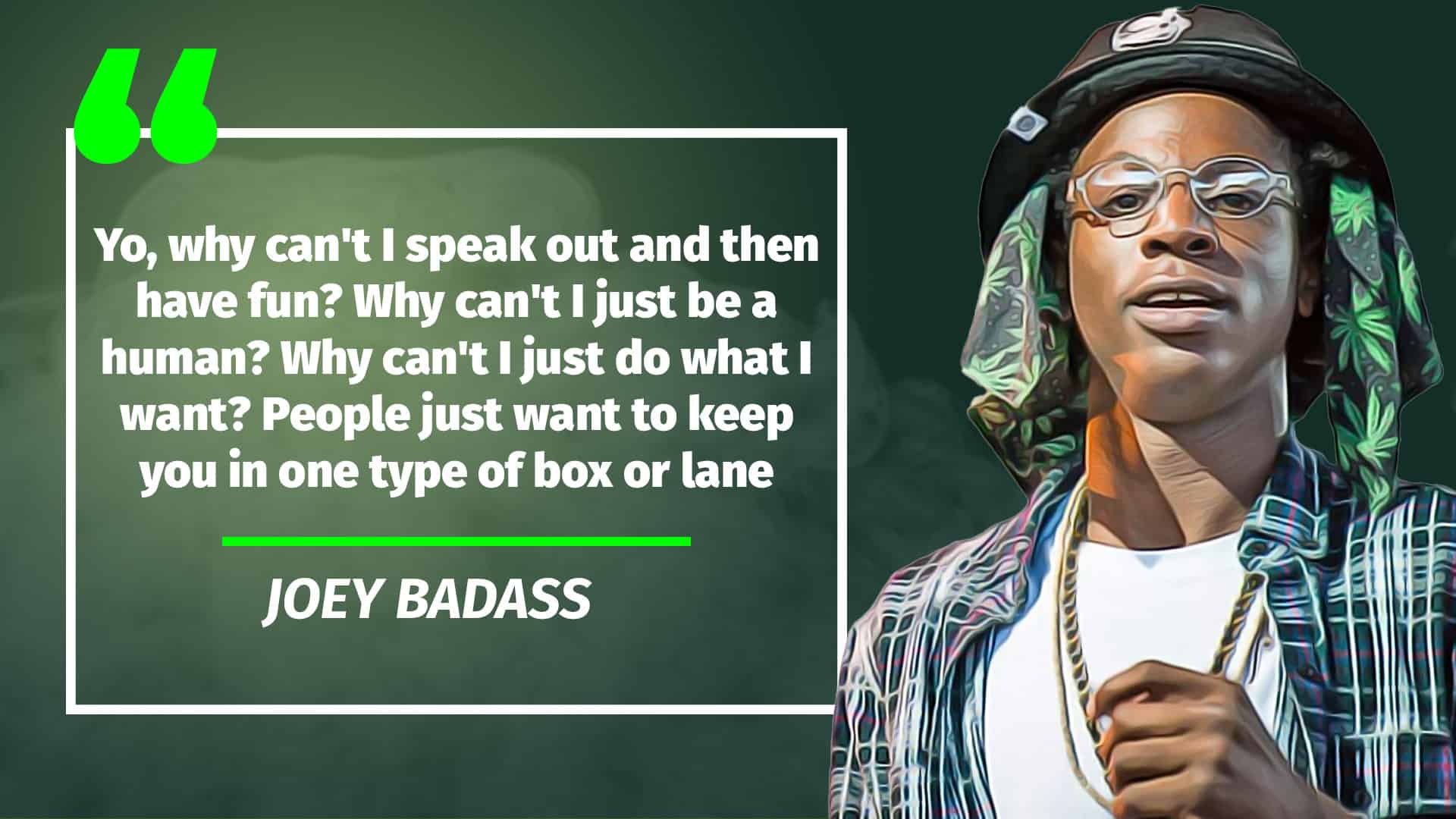 "Yo, why can't I speak out and then have fun? Why can't I just be a human? Why can't I just do what I want? People just want to keep you in one type of box or lane."-Joey Badass
"Jamaica's probably the most dominant island as far as influence goes, as far as music and dancing and culture."-Joey Badass
2 Notable Lessons From Joey Badass
After a thorough review of Joey Badass net worth and all that is to know about his career so far, below is some notable lesson that is to be learned from him and his success story.
1. Fear is a limitation
Don't be afraid to start anything, the fear of failure is a great limitation to the height of success one can achieve.
2. Embrace your imperfections
No one is perfect, so don't let your imperfections weigh you down. Keep doing what you love no matter how imperfect it seems. Consistency and time lead to perfection.
Also, check out Dave Net Worth and all there is to know about his biography and career.
Summary
Joey Badass is an American Hip Hop artist who is one of the founders of the popular music band Pro Era. He released his first mixtape in 2012 titled "1999," and he has been soaring higher in the music industry since then.
Initially, as a little boy, he had dreams of becoming an actor. This, however, came to accomplishment as he was featured in the popular series 'Mr. Robot' as well as several other films.
Joey Badass net worth is estimated to be about $5 million as of 2021.
What do you think about Joey Badass net worth? Let's hear them in the comment section below