What is Joyner Lucas net worth?
| Net Worth: | $1 Million |
| --- | --- |
| Source of Wealth: | Professional Rapper |
| Age: | 31 years old |
| Nationality: | United States of America |
| Last Updated: | 2020 |
Joyner Lucas Net Worth: Joyner Lucas is an American rapper, songwriter, singer, poet, and actor whose net worth is estimated to be about $1 Million. He is popularly known for releasing the hit single 'Ross Capicchioni'.
He is also known for releasing the song 'I'm Not Racist', which went viral on YouTube and also got him fame and accolades.
Early Years
The American rapper Joyner Lucas was born on the 17th of August, 1988 in Worcester, Massachusetts, United States.
After birth, he was given the birth name Gary Maurice Lucas, Jr., however, he is popularly known by his stage name Joyner Lucas
Joyner Lucas had developed a keen interest in music and rap from a very tender age and has always wanted to be a rapper.
Joyner spent most of his childhood in Worcester, Massachusetts, where he was born, and at the age of 10, he had started rapping.
Not only did Joyner has an interest in music, but he also has the talent to succeed in this profession. Being a natural Talented rapper and songwriter, his love for music was very evident.
According to Joyner, his inspiration came from popular rap stars like Eminem and Jay-Z and a bit of their influence can be noticed in his rap style.
Joyner Lucas Career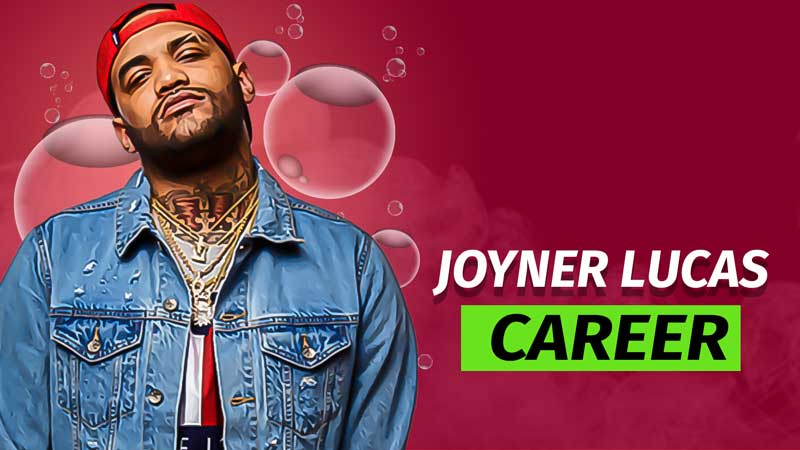 Joyner Lucas started his career by making recordings in 2007. He started with the stage name G-storm and later on, he decided to change it to Future Joyner.
At that time, he was recording in collaboration with Cyrus the Great, his uncle, and together they created a group by name "Film Skool Rejekts".
The same year after the creation of this group, they released a mixtape which they titled "Workprint: The Greatest Mixtape of All Time".
Thereafter, in 2011, Joyner independently released his first mixtape which he gave the title "Listen 2 Me". moreover, His first mixtape was released under the name Future Joyner.
Nevertheless, when Joyner had achieved a level of fame, he decided to drop the 'Future' which was initially in his stage name and simply go by the name "Joyner Lucas".
Under the name Joyner Lucas, in October 2013 he released an album that he gave the title LFO's (Low-Frequency Oscillators).
On the 5th of April 2015, Joyner Lucas released another mixtape titled "Along Came Joyner", one of the hit tracks in this mixtape includes "Ross Capicchioni".
The song "Ross Capicchioni" was a great success and as a result of this, Joyner was called to future in the 2015 BET Hip-Hop Awards Cypher.
Though he was first added to only the "Internet Only Cypher", but as the producer heard him perform, they immediately featured him in the live cypher
On the 21st of September, 2016, Joyner Lucas was signed into the Atlantic Records where he released the mixtape "508-507-2209" on the 16th of June 2017.
Just like his previous mixtape the "508-507-2209″ was also a success peaking Number 7 on the Heatseekers Albums chart.
This mixtape consists of hit singles like Winter Blues", "I'm Sorry", "Ultrasound", and "Just Like You". Joyner has also been known for making remixes of several hit Hip Hop songs since he was signed into Atlantic Records in 2016.
Still in 2017 after the release of the mixtape "508-507-2209", Joyner Lucas released the hit single "I'm Not Racist" on the 28 of November, 2017.
The single "I'm Not Racist" was released to his YouTube channel where it automatically went viral and had a positive review from lots of people even most critics.
The critically acclaimed song was about race and color, portraying what should be the white man and the black man point of view about society.
The song's video was a piece of art, it's uniqueness got it nominated at the 61st Grammy Awards, for the category of Best Music Video, however, it lost the award to "This Is America" by Childish Gambino.
On the 25th of January, Joyner Lucas and Chris Brown announced the release of the music project they were walking on which the titled Angels & Demons.
After the announcement, the next day they released the lead single of the project titled "stranger things".
The second single of the project Angels & Demons was released on the 2nd if may 2018 titled "I Don't Die". Before that Joyner had already released a song titled "Frozen", earlier on the 1st of April.
Still in 2018, Joyner Lucas was supposed to go on an "I'm kinda a Big Deal" tour in Australia and Europe but he later announced, on the 31st kg July 2018, that he had canceled the shows of his tour reason being laryngitis and hoarseness.
Joyner has also worked in collaboration with Eminem, he was featured on a song titled "lucky you" which was part of Eminem's tenth album, Kamikaze
Furthermore, Joyner Lucas announced the release of his debut album which he titled "ADHD" on the 12th of October 2018.
Following the announcement, he released the lead single of the album five days later on the 17th of October 2018 titled "I love" which he had also announced.
Finally, On March 27, 2020, the long-awaited album "ADHD" was released.
As of 2020, Joyner Lucas net worth is $1 million.
YouTube Fame
Joyner Lucas acquired much fame from his YouTube channel. He had initially been remixing various songs and uploading on his YouTube channel which drew much attention to as a result of his awesome creativity.
He had remixed most popular songs like "Bank Account" " and "Gucci Gang" which according to him got a massive amount of views on his YouTube channel clocking over 76 million views for the remix of "Gucci Gang" and over 68 million views on the remix of "Bank Account". This and several other covers have Joyner gotten massive views on.
The release of the music video of his song "I'm Sorry," on his YouTube channel got him a ton of views amassing over 40 million views within a week of its release.
Joyner Lucas has utilized the lucrativeness of YouTube for marketing and it has helped in so many ways. In 2017, Joyner released a video of a controversial single titled "I'm Not Racist,".
The video immediately drew lots of attention and views on its release and has been able to amass over 141m views so far.
This song and it's video went viral and immediately blurted out any opinion of Joyner not being original due to his track record of remixing songs.
He also received a lot of critical acclaim, and applaud for portraying the various viewpoint of race through his music.
This popular video he released on his YouTube channel was later nominated in the category of "Best Music Video of the season" for a Grammy Award.
Joyner Lucas Net Worth
Joyner Lucas net worth is estimated to be around $1 Million as of 2020. He has been able to acquire this much through his hard work and dedication in his career in music and also several other endeavors.
Awards and Achievements
Joyner Lucas has got quite some achievements as a successful rapper. He has gotten two Gramm award nominations so far.
In the 2019 Grammy's award, the video of his controversial single "I'm Not Racist," was nominated for the category of Best Music Video.
Still in the 2019, he got his second Grammy Award nomination as his song 'Lucky you' got nominated for the category "Best Rap Song".
However, Joyner didn't get to win any of the awards. Not minding, he has a great tendency of winning lots of awards in the years to come through it seem as if he hasn't won any yet.
Charity and Philanthropy
Among other endeavors, Joyner Lucas has also got himself in some charity works. He had taken full responsibility for the burial cost of an 18-year-old rapper by name Tafar Lewis(June Valentino) who was shot down on July 2 during Worcester, Ma.'s fireworks show.
Also, Joyner Lucas gave away $500 per day in September 2019, to randomly selected single mothers to assist them in buying foodstuffs and groceries.
Joyner Lucas Quotes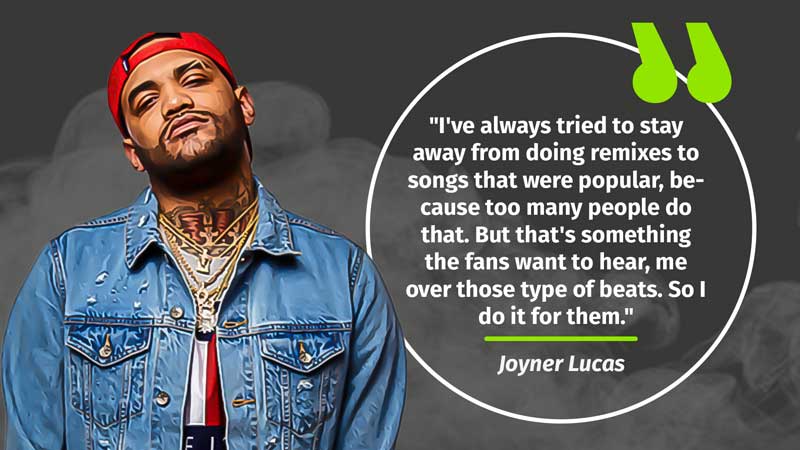 I've always tried to stay away from doing remixes to popular songs, because too many people do that. But that's something the fans want to hear, me over those types of beats. So I do it for them. – Joyner Lucas
I began seeing certain things happen in my life and other people's lives and getting inspired by it and writing about it. And that's where you get 'Happy Birthday' from and 'Ross Capicchioni' from or you even get 'I'm Sorry' from. – Joyner Lucas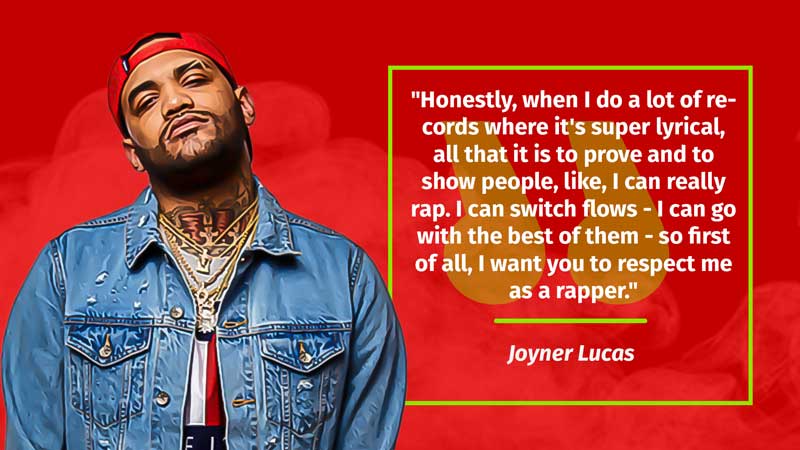 Honestly, when I do a lot of records where it's super lyrical, all that it is to prove and to show people, like, I can really rap. I can switch flows – I can go with the best of them – so first of all, I want you to respect me as a rapper. – Joyner Lucas
Eminem has been someone that I've always considered the greatest ever, to ever do it. You know what I mean? In every aspect, the storytelling abilities, lyrical ability, honesty. You can hear it in my music that I'm heavily influenced by that. –Joyner Lucas
3 Powerful Lessons from Joyner Lucas
After a thorough review of Joyner Lucas net worth and all that is to know about his career so far, below is some notable lesson that is to be learned from him and his success story.
1. Growth improves
We tend to make wiser and more responsible decisions as well grow older. The way on approaches situations when they are grown is different from the way they had at a younger age.
2. Be yourself/ Be original
Do not be afraid to stay real and be yourself. Originality improves more than faking what is not.
3. Failure is one step to Success
Don't be discouraged if you fail, be motivated, rise, and try again. Success is not achieved in a day, it takes a series of trial and error.
Would you like to know how rich is Santan Dave, do check out this article on Dave's Net Worth.
Summary
Joyner Lucas is a popular rapper, songwriter, singer, poet, and actor. He took a liking into music from a very tender age and has worked hard to achieve great success ever since. Joyner has got to work with top rap stars in the music industry including Eminem and several others.
Are you looking to know how much is Joyner Lucas worth, Joyner Lucas Net Worth is estimated to be about $1 Million as of 2020.
Any comments regarding Joyner Lucas net worth? Drop them in the comment section below.