What is Lil Yachty's net worth?
| Net Worth: | $8 Million |
| --- | --- |
| Source of Wealth: | Professional Rapper |
| Age: | 22 years old |
| Date of birth: | August 23, 1997 |
| Nationality: | United States of America |
| Last Updated: | 2020 |
Lil Yachty Net Worth: Lil Yachty is an American rapper and singer who has a net worth of about $8 million. Currently signed to Quality Control Music, Lil Yachty came into the limelight in 2015 after the release of debut singles "One Night" and "Minnesota".
Early Life
The American rapper Lil Yachty was born on the 23rd of August 1997, in Mableton, Georgia.
He was given the birth name Miles Parks McCollum but he is popularly known by his stage name Lil Yachty.
He developed a great interest in music from an early age while frequently listening to the music of the popular Canadian rapper Drake in his youthful age which later got an influence in his music career.
Lil Yachty had attended Alabama State University in 2015 but didn't get to finish as he dropped out, later on, to focus solely on his career in music.
After he dropped out of Alabama State University, he migrated to New York to live with a friend while networking at the same time.
During that time he worked towards increasing his followers on Instagram and also making profitable connections in the local streetwear scene.
Even as he was building his social media profile knowing it's a useful effect as a musician, Lil Yachty had also worked for McDonald's to assist himself financially.
Career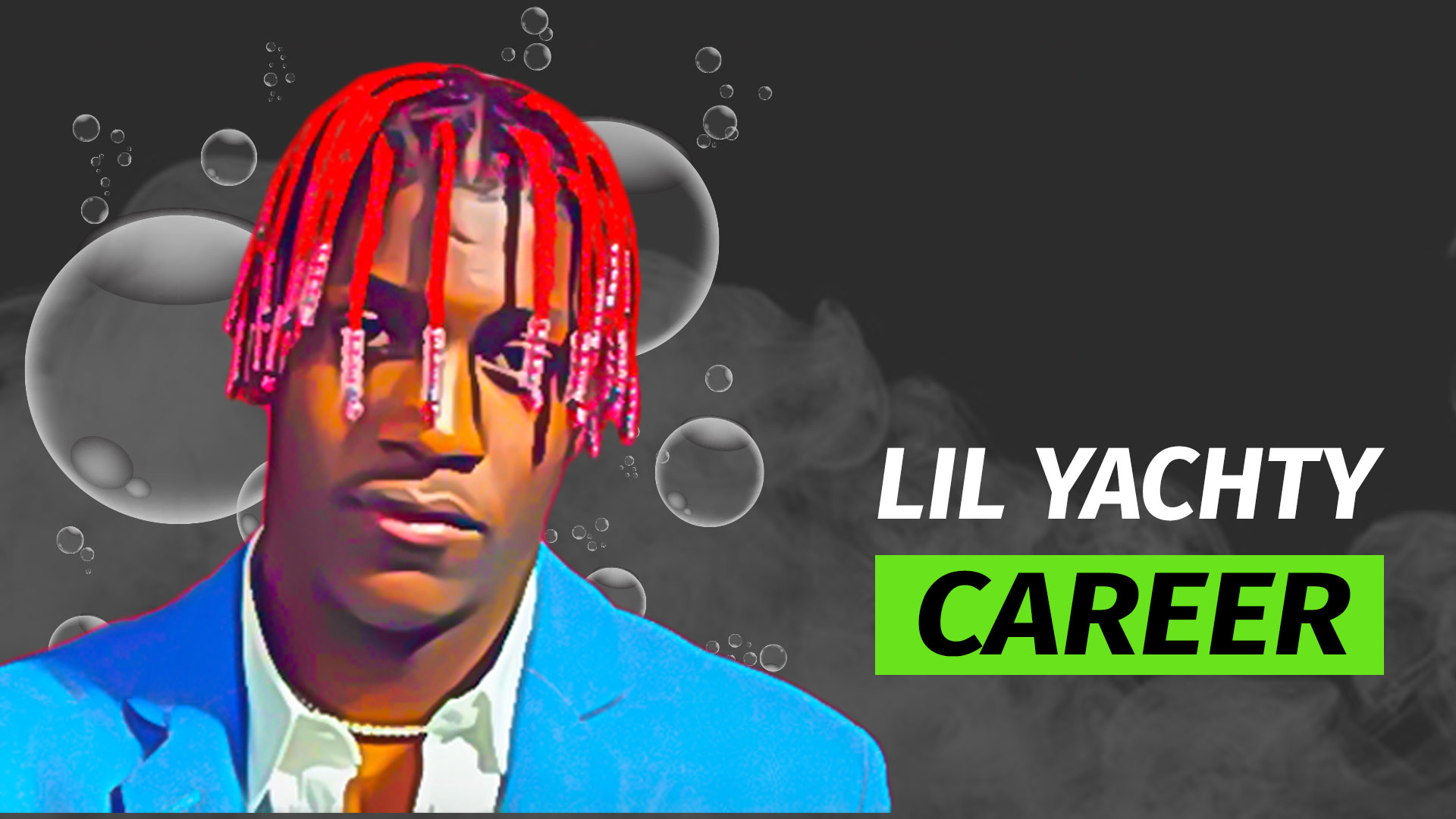 Lil Yachty's emergence into the limelight as a musician was a surprise to many stating the fact that he was publicly announced after a song of his titled "One Night" was featured in a video that went viral.
The video which was watched by many got lots of people wondering what song was that on the background, this aroused the curiosity of many and immediately announced Lil Yachty and got lots of people getting the song on their devices.
Not only did this get people downloading his songs on their devices, but it also got them curious to know more about the fast-rising rapper Lil Yachty.
Lil Yachty music video on YouTube for the song "One Night" has gotten over 126 million views as of 2020.
In 2016, Lil Yachty's popularity grew higher as he got a deal to be the model face for Kanye West's Yeezy fashion line. Also in 2016, he released his first mixtape which he titled "Lil Boat".
Thereafter, Lil Yachty achieved more and more success in his music career and he started getting opportunities to work in collaboration with various star rappers and music artists who spotted his uniqueness.
Rappers he collaborated within 2016 include Chance the rapper and also DRAM which he worked together in the release of the song "Broccoli," which peaked #5 I'm the Billboard Hot 100.
Back to back in 2016, after the release of his first mixtape, Yachty released another mixtape in the same year which he titled "Summer Songs 2".
His second album was released in mid-2016, also giving a step further in his music career. He later got to collaborate with rappers like Tee Grizzley and Kyle in 2016.
Lil Yachty's career was beginning was quick, unlike some other top stars. In 2017, he released his debut studio album entitled "Teenage Emotions" which peaked #5 on the Billboard Top 200.
The intention of the release of his first album caught the attention of several other rap stars who were willing to work in collaboration with him on its release, rappers like Diplo, YG, and Migos.
After the release of his first album, the following year was also a great one for Lil Yachty as he released his second studio album in 2018, titled "Lil Boat 2".
His second album peaked No.2 on the Billboard Top 200 and had sold about 64,000 units though it received some criticism, it was also a success and had generated lots of income.
Still in 2018, Lil Yachty collaborated with the pop band Ocean Park Standoff in the recording and release of the song "If You Were Mine" also increasing his reputation in the music industry.
As of 2019, Lil Yachty's musical career went all cold, however, in 2020 he automatically bounced back on track as he announced the release of another album which he revealed to be titled "Lil Boat 3".
He followed the announcement by releasing the lead single of the said album titled "Oprah's Bank Account." in which he featured his childhood role model Drake.
Lil Yachty had also collaborated with several other star artists in 2020 including the group project A-Team, Lil Kreed, and also Lil Gotit.
As of 2020, Lil Yachty's net worth is estimated to be $8 million.
Additional Ventures
Not only is Lil Yachty into music, but he also has several other endeavors that are not related to music. An example of his non-music related ventures includes him featuring alongside LeBron James in a Sprite television commercial.
He is also into fashion and modeling and was used as the modeling face for Kanye West Yeezy fashion brand.
After reaching fame, Lil Yachty became the face of various Nautica and Urban Outfitters clothing lines. Additionally, he appeared in a promotional music video alongside Carly Rae Jepsen for Target.
Having made a name for himself and risen in popularity, Lil Yachty has been featured as the face of several well-known clothing lines.
Lil Yachty has also been involved in the endorsement of several brands, in 2018, he had worked with Donny Osmond to record a theme song for the brand Chef Boyardee who had hired them. The theme song was titled "Start the Par-dee" and was a unique one.
In 2016, Lil Yachty was also involved in the publicity of senator Bernie Sanders who was later involved in the civil rights movement.
Lil Yachty Net Worth
Lil Yachty net worth is estimated to be roughly $8 million as of 2020. He was able to acquire this much through his career in music through music sales, streams, and shows. He also earns through several other non-musical related endeavors which include endorsement deals.
Currently, Lil Yachty earns about $100,000 per concert or gig he appears in and $35,000 for performing guest verse.
Lil Yachty has had over 500 million views on his music on various platforms which is also another means of income to him.
Endorsements
Lil Yacht having gained popularity as a rapper has gotten several endorsements deals with worldwide popular brands including Adidas, Christian Dior, Celebs On Sandwiches, Alexander Wang, Beats By Dre, and lots more.
Charity and philanthropy
Lil Yachty has also involved himself with several charity works aimed at helping people. Yachty had partnered with Foot Locker, and Reebok to assist the Hurricane Maria victims in Puerto Rico by donating to them an entire stock of Reebok sneakers of a local Foot Locker store to help make a positive difference in their lives.
He has also made considerable donations to support different charity agencies like The Robin Hood Foundation and Food and Drug Administration.
Awards & Achievements
So far, Lil Yachty has not been given any know award yet. However, he has gotten some award nomination in the Grammy Award and also the MTV Europe Music Award.
Nevertheless, Yachty has a promising career and has a great tendency to win many awards in the years to come as he is just in the initial stage of his career.
As of 2020, Lil Yachty's net worth is estimated to be $8 million.
Legal Issues
In 2015, before Lil Yachty became famous, he was involved in a credit card fraud scheme in Florida. He was arrested at a mall in Palm Beach with another man and posted an $11,000 bail bond to be released soon thereafter.
Lil Yachty was arrested sometime in 2015, inside a mall in Palm Beach for his involvement in a credit card fraud that took place in Florida. He was arrested alongside another culprit and was kept for an $11,000 bail.
However, this was before he became popular. Later in 2016, Yachty made a statement that his criminal records had been cleared for the fact that he was a teenager as of the time of his arrest.
Favorite Lil Yatchy Quotes
"My mother always taught me a lot of important life lessons, and she would always tell me how important it was to tip. We didn't have much money, so we would tip what we could. Now, it's at the point I'm financially stable. When I'm out eating, I hope I have the cash, but if I write it on the receipt, I'll leave a big tip."-Lil Yachty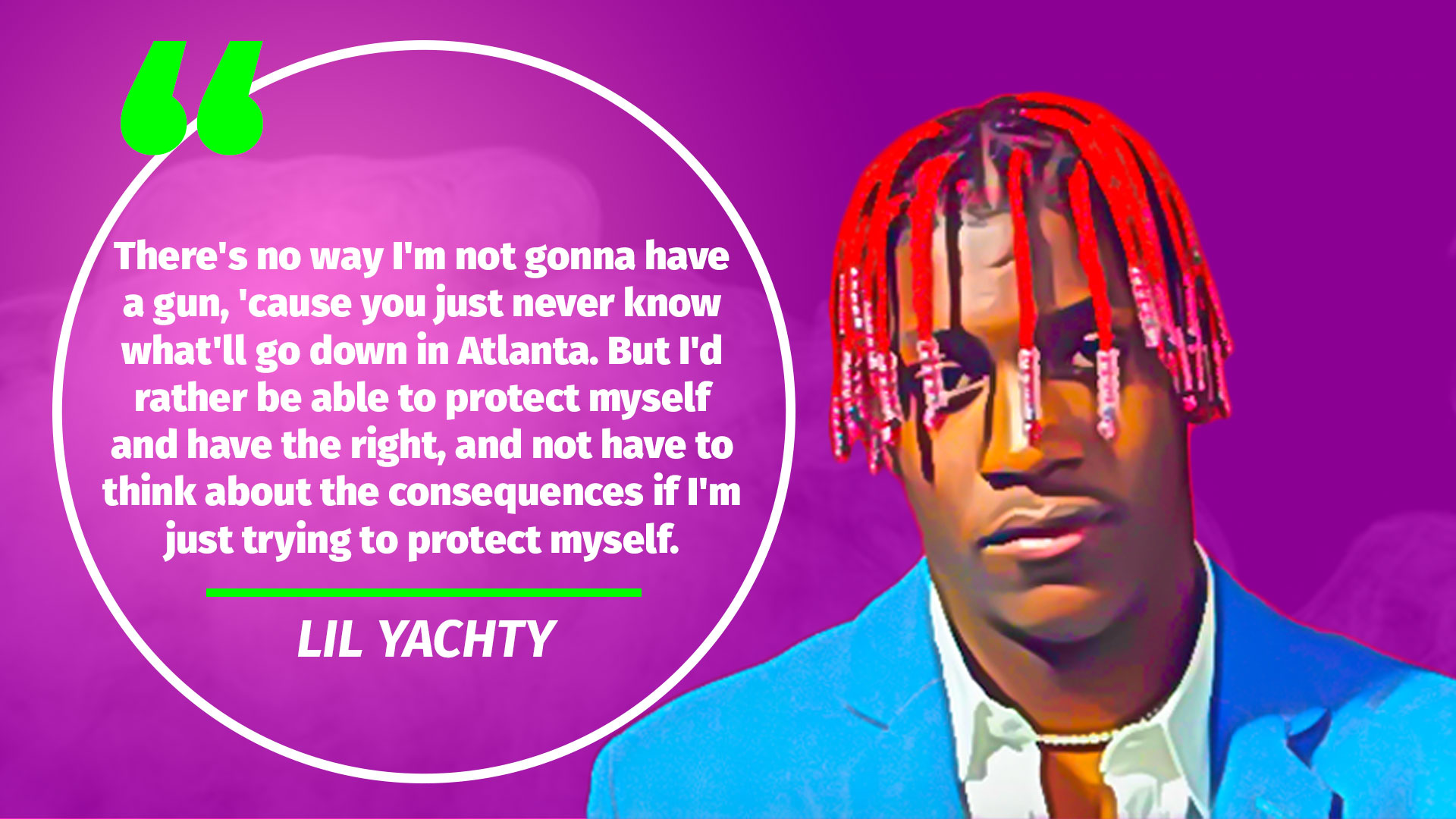 "There's no way I'm not gonna have a gun, 'cause you just never know what'll go down in Atlanta. But I'd rather be able to protect myself and have the right, and not have to think about the consequences if I'm just trying to protect myself."-Lil Yachty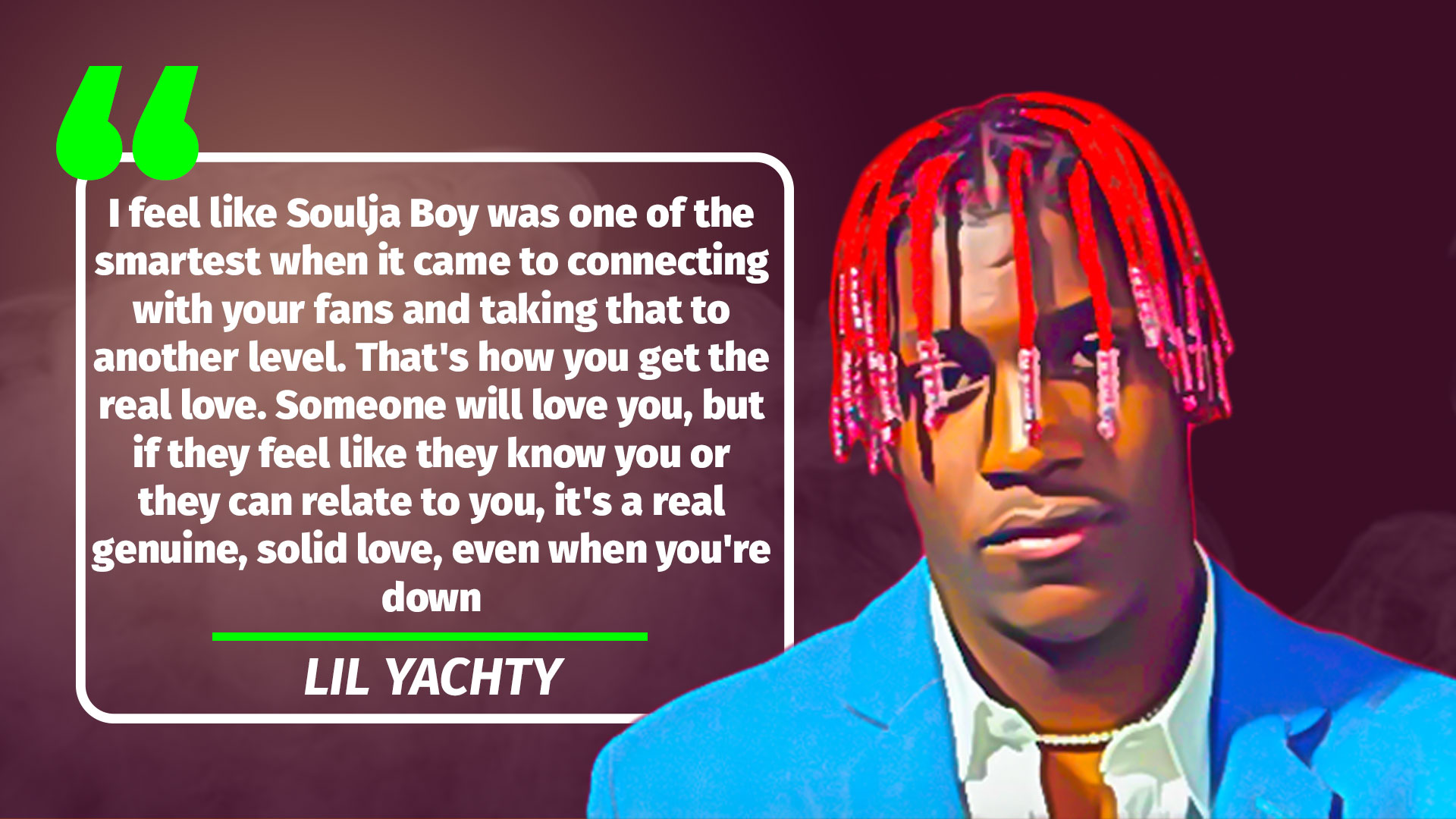 "I feel like Soulja Boy was one of the smartest when it came to connecting with your fans and taking that to another level. That's how you get real love. Someone will love you, but if they feel like they know you or they can relate to you, it's a real genuine, solid love, even when you're down."-Lil Yachty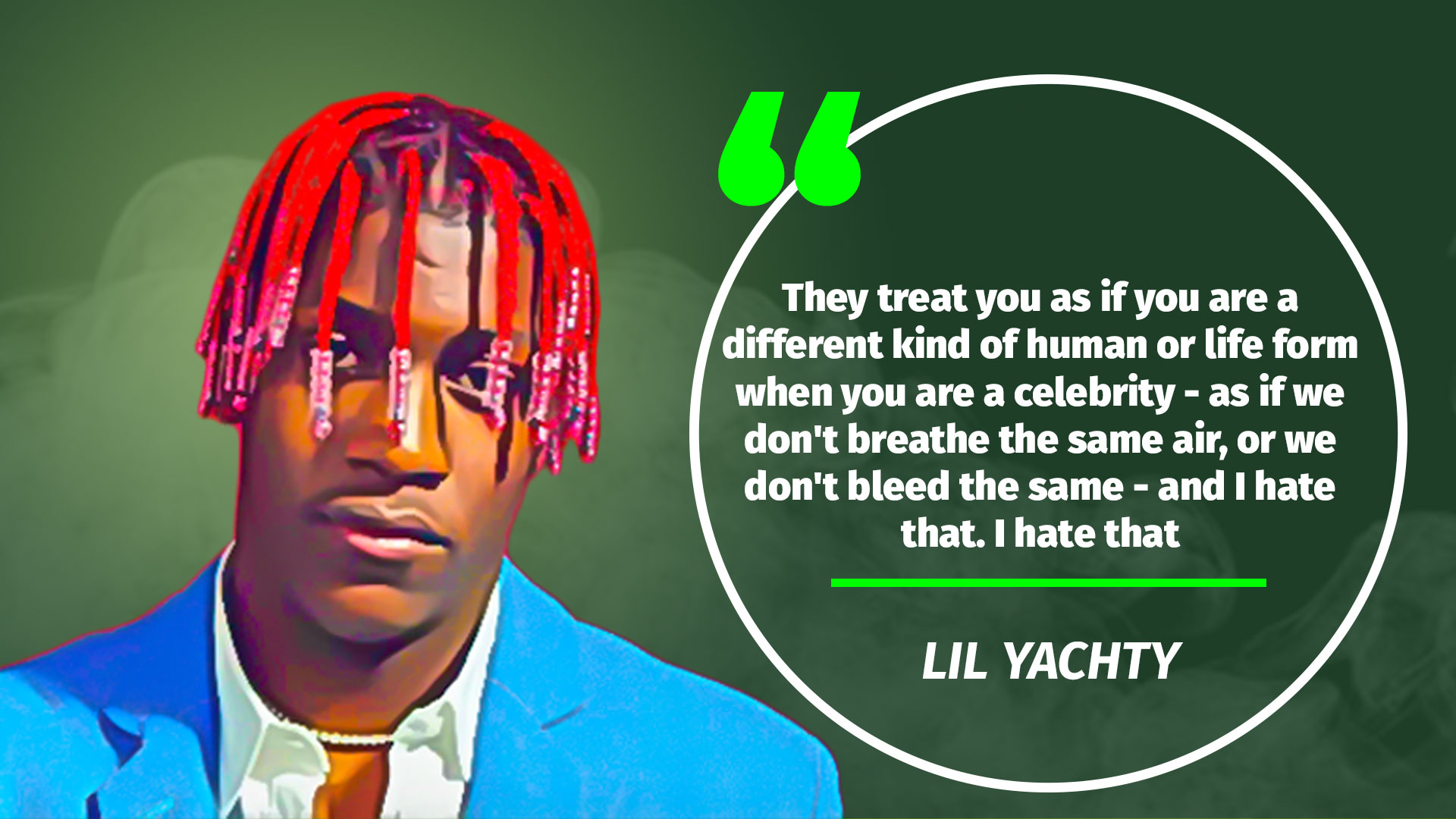 "They treat you as if you are a different kind of human or life form when you are a celebrity – as if we don't breathe the same air, or we don't bleed the same – and I hate that. I hate that."-Lil Yachty
2 Useful Lessons from Lil Yachty
After a thorough review of Lil Yachty's net worth and all that is to know about his career so far, below is some notable lesson that is to be learned from him and his success story.
Always put a smile on your face
No matter how hard things might be, always be happy and put a smile on your face. Happiness depends upon yourself, therefore it is wise to forget about the past, don't worry about the future, and be happy for the present.
Always overcome Rejection
Do not allow rejection to stop you from achieving the success you intend to. No matter what circumstances you face, always rise above fear and rejection because no situation lasts forever. Do not let rejection weigh down keep pushing and working your way towards success.
Summary
Lil Yachty is one of the youngest popular American rapper and singer. His rise to fame started in 2015 and year after year he keeps achieving more success and fame with a very notable net worth.
Lil Yachty's net worth has been estimated to be about $8 Million as of 2020.
Leave a comment below on your thoughts about Lil Yachty's net worth.