What is logic's net worth?
| Net Worth: | $14 Million |
| --- | --- |
| Source of Wealth: | Professional Rapper |
| Age: | 29 years old |
| Date of birth: | January 22, 1990 |
| Nationality: | United States of America |
| Last Updated: | 2020 |
Logic Net Worth: Logic is an American rapper, songwriter, singer, and producer who has a net worth of about $14 million. He came officially into the limelight in 2018 and ever since he kept rising to fame and has become one of the most paid and popular rappers in the world today.
Early Life
The American rapper Logic was born on the 22nd of January 1990 in Rockville, Maryland, United States.
After birth he was given the birth name Sir Robert Bryson Hall II, however, he is popularly known by his stage name Logic.
Though born in Maryland, logic spent most of his childhood in West Deer Park, Gaithersburg.
Logics childhood was not an easy one due to both of his parent addictions. His father was a cocaine addict and was absent from his childhood, his mother also was addicted to Alcohol.
Add to the discomforting childhood, at teenage age, logic had always seen his brothers make and sell cocaine to various drug addicts around the neighborhood including his father.
According to him, he confirmed that due to this experience, he had learned how to make crack cocaine while growing up alongside his brothers.
Logic attended Gaithersburg High School, but he never graduated and was expelled when he was in the 10th grade for skipping classes.
Concerning Logic's education, he had attended the Gaithersburg High School, unfortunately, he did not get to graduate as he was expelled while in 10th grade for frequently skipping class.
When Logic was 17 years old he left his mother's house.
Career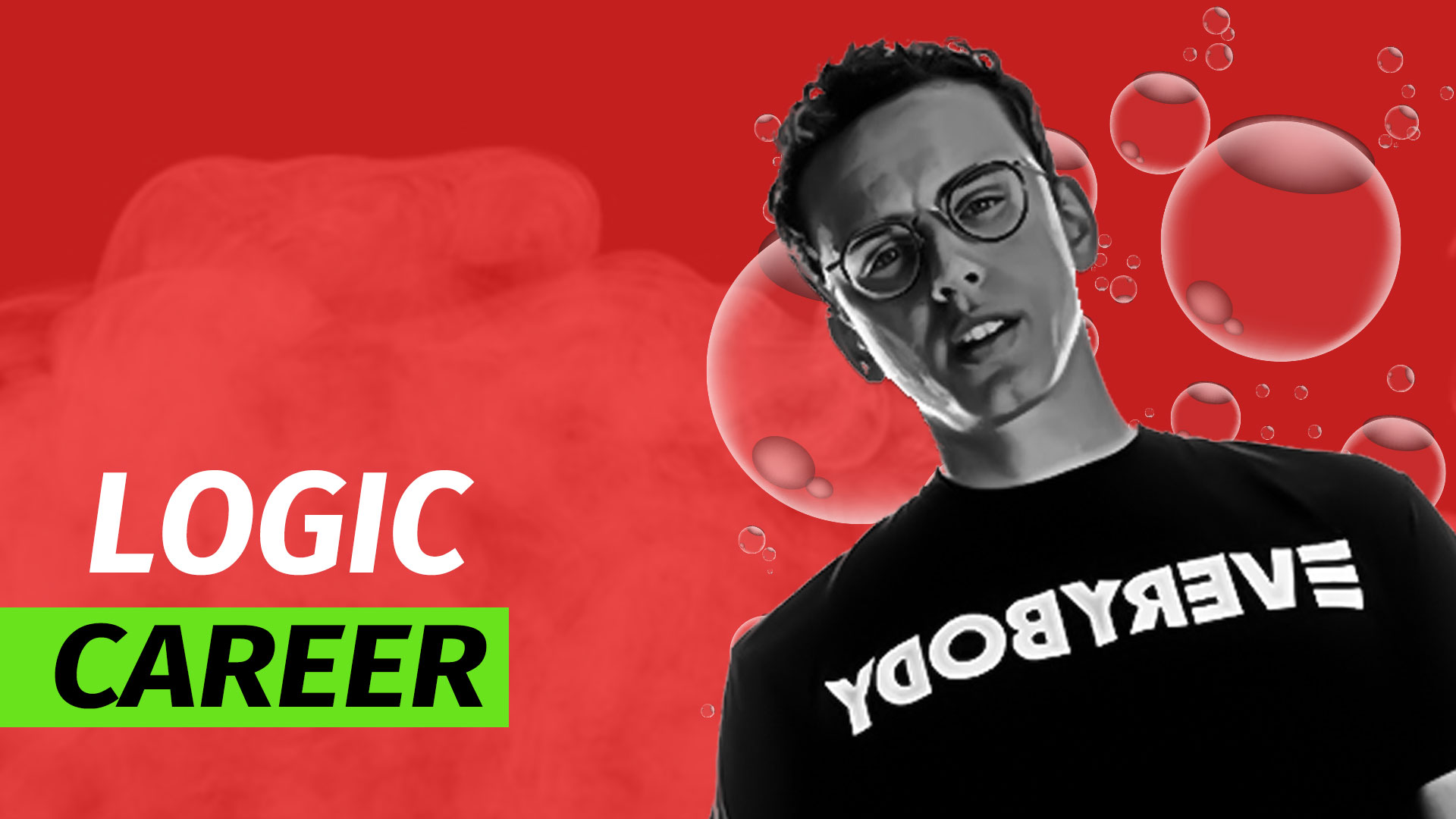 Right from an early age, logic had developed a great interest in music, rap in particular. at the age of 13, he met his mentor by name Solomon Taylor who helped in greatly in the early times of his career.
Moreover, Logic interest and love for Hip Hop started after he watched the Quentin Tarantino's Kill Bill: Volume 1 produced by a member of the Wu-Tang Clan called RZA. He immediately loved the group and Hip Hop and decided to try it out.
He started his career with the initial name Psychological and had released his first unofficial mixtape under the name. The mixtape was a hit that caught the attention of many in the industry.
He was noticed by popular rappers like Ludacris, Method Mad, Pitbull, EPMD, and Redman in Maryland, and soon after he changed his stage name from Psychological to Logic.
Later on, in 2010, Logic released his first official mixtape which he titled "Young, Broke, and Infamous". The mixtape had received lots of critical acclaims.
Thereafter Logic was signed in by the Visionary Music Group an independent label that he released his second official mixtape under in 2011 titled "Young Sinatra".
In 2012, Logic released another mixtape which he titled "Young Sinatra: Undeniable" and had launched a debut national headlining tour. Before that, his single "All I Do" music video had gone viral on YouTube having over one million views within the first week of its release.
In 2013, Logic released another mixtape titled Young Sinatra: Welcome to Forever. Logic is one of the members of RattPack alongside most of his friends and has lots of social media followers.
He is also signed into Def Jam Recordings as well as Visionary Music Group.
In October 2014, Logic released his first official debut album which he gave the title "Under Pressure".
The album "Under Pressure" was a success just like his other mixtapes and it got to peak #2 on the US Rap and US R&B/Hip-Hop charts and on the billboard 200 it got to #4.
The album consists of various collaboration singles with several to musicians including Big Sean, Childish Gambino, and many others.
A year later, in November 2015, Logic went ahead to release his second studio album entitled The Incredible True Story.
This particular album, however, got to peak #3 on the Billboard 200 and #1 on the US Rap and US R&B/Hip-Hop charts.
The album "Everybody", being Logic's third official studio album was released in May 2017, it was a success and this time it got to be #1 on the 1 on the Billboard 200, US R&B/Hip-Hop chart, as well as the US Rap chart.
In September 2018, Logic released his fourth official album titled "YSIV". It got to Number 2 on the Billboard chart and received a lot of critical acclaims.
After pausing the release of mixtapes for a while, in March 2018 Logic released a mixtape entitled "Bobby Tarantino II" which he claimed to have signed a $30 million record deal in one of its songs.
He also claimed to have spent about $10 million for taxes that same year in another song in the album.
Logic released his fifth album titled "Confessions of a Dangerous Mind" on the 10th of May 2019, though he had initially released the albums lead single "Keanu Reeves," before then.
His fifth album peaked #1 on the Billboard 200. The third song in the album titled "Homicide," featured the renowned rapper Eminem and it debuted #5 on the Billboard Hot 100.
Among other endeavors, Logic has also written and released novels. His novels include Supermarket and an accompanying soundtrack which were both released on the 26th of March, 2019.
After the release of his first novel, Logic became a New York Times Number One Best Selling Author which made him the first rapper to ever achieve this.
Furthermore, added to his endeavors, Logic has also got to play a guest role in some video games.
Examples of some other of Logic's most popular hit singles include "1-800-273-8255" which featured Alessia Cara and Khalid and had peaked #3 on the Billboard Hot 100.
Another one is the song "Sucker for Pain" featuring Ty Dolla Sign, Lil Wayne, Wiz Khalifa, and Imagine Dragons featuring X Ambassadors, it got to peak #1 on the US Rap chart.
Logic listed his most influencers and role models, to be Frank Sinatra, J. Cole, Drake, A Tribe Called Quest, Outkast, Red Hot Chili Peppers, and several others.
Personal Life
Reports have it that in 2019, the rapper logic ended a serious 5 years relationship to focus solely on pursuing a career in music.
on the 22nd of October, 2015, Logic and the music star Jessica Andrea exchange matrimonial vows after initially being in a dating relationship for two years.
Unfortunately, his marriage with Jessica Andrea only lasted for three years, on March 2018, Logic made their intentions of divorce known to the public, and a month of the announcement the couple officially got divorced.
Though divorced, Logic and Andrea claims to still be pretty good friends and that their separation was a mutual agreement.
In September 2019, Logic remarried to Brittney Noell after revealing earlier that they were expecting a son in one of his freestyle in August 2019.
While growing up, Logic was frequently taking in marijuana, he had admitted this himself, nevertheless, he also made known to the public in 2013 that he had let go of taking marijuana and that he takes alcohol once he a while.
Logic also has a YouTube channel which features reviews of the various video he loves the most.
Logic Net Worth & Salary
As of 2020, Logic's net worth is estimated to be $14 million. Research has it that every month, Logic earns an estimated amount of about $750,000 or even more. For each show or concert he performs in, he earns around $150,000 or more.
As of 2019, Logic had featured in over 5 concerts, however, his exact earnings per year cannot be said for a certain stating the fact that it depends on the tours he had and the work he puts out.
Nevertheless, as of 2018, it is most probably that Logic earned roughly $4 million, this can be estimated for the fact that his net worth rose drastically from $10 million to $14 million in 2018.
How does Logic make his money?
Logic makes most of his money through selling and creating music as well as through concert tours. Though this is not the only avenue he gets profits.
He also gets paid by the record label which he is signed in "Def Jam" for the production of musical projects. He gets his cut when his project is completed and put out for sale and gets streamed.
Creating a song is a complex task, more complex than you might think. Aside from the actual rapping or singing, there other minor tasks involved in making a song, and these activities generate income as well.
In 2018 when Logic earned roughly $4 million, he had gone for several tours, though he had performed in more concerts than the previous. He earned more than the previous years, stating the fact that his price for performing increases as the years go by giving that he gains more popularity year after year.
Furthermore, Logic also earns by selling merchandise that is one way or the other related to his music. He has diverse means of the income stream, which is a financial brilliant scheme.
Awards & Achievements
As an uprising successful rapper, Logic has won three awards so far. His song "Black Spider-Man" won the 2017 MTV music video awards for the category of "Best Fight Against the System".
He also won the BMI R&B/Hip-Hop Awards in 2017 in the category of "Most Performed R&B/Hip-Hop Songs" with the song "sucker for pain".
Finally, in 2018 with the song "1-800-273-8255" Logic won the BMI pop awards in the category of Award-Winning Songs.
He has also gotten two Grammy award nominations so far. In 2018, his song "1-800-273-8255" was nominated under the categories song of the year and Best Music Video respectively.
Logic Real Estate, House and Cars
Logic owns a house in the middle of Calabasas, California at an in a community called "Mureau Estates".
His house is 7,700 square foot and consist of six-bedroom, a large playroom, separate guest house, two offices, a gourmet kitchen, pizza oven, outdoor BBQ and a salt-water pool.
It was built in 2004, AMD initially it was put out for sale for $3.7 million.
Added to that, logic has a thing for luxury cars, he owns a white BMW i8 which he had flaunted several times on camera.
Powerful Logic Quotes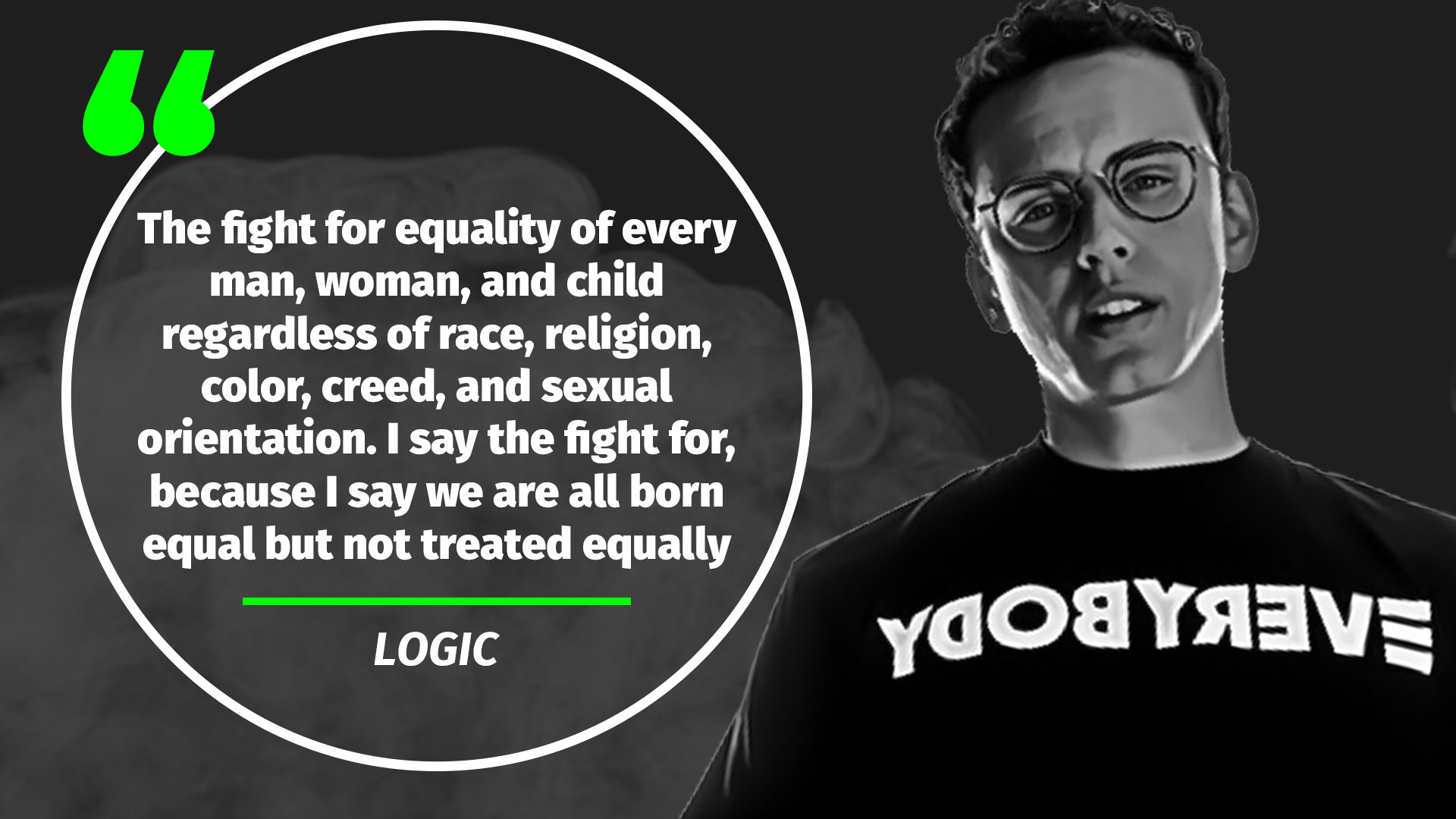 "The fight for equality of every man, woman, and child regardless of race, religion, color, creed, and sexual orientation. I say the fight for, because I say we are all born equal but not treated equally."— Logic
"Logic came from my mentor Salomon Taylor, he was like to go into a dictionary and find one word that sums you up. And I was like 18 and super into hardcore underground rap. So I found this one word, psychological"- Logic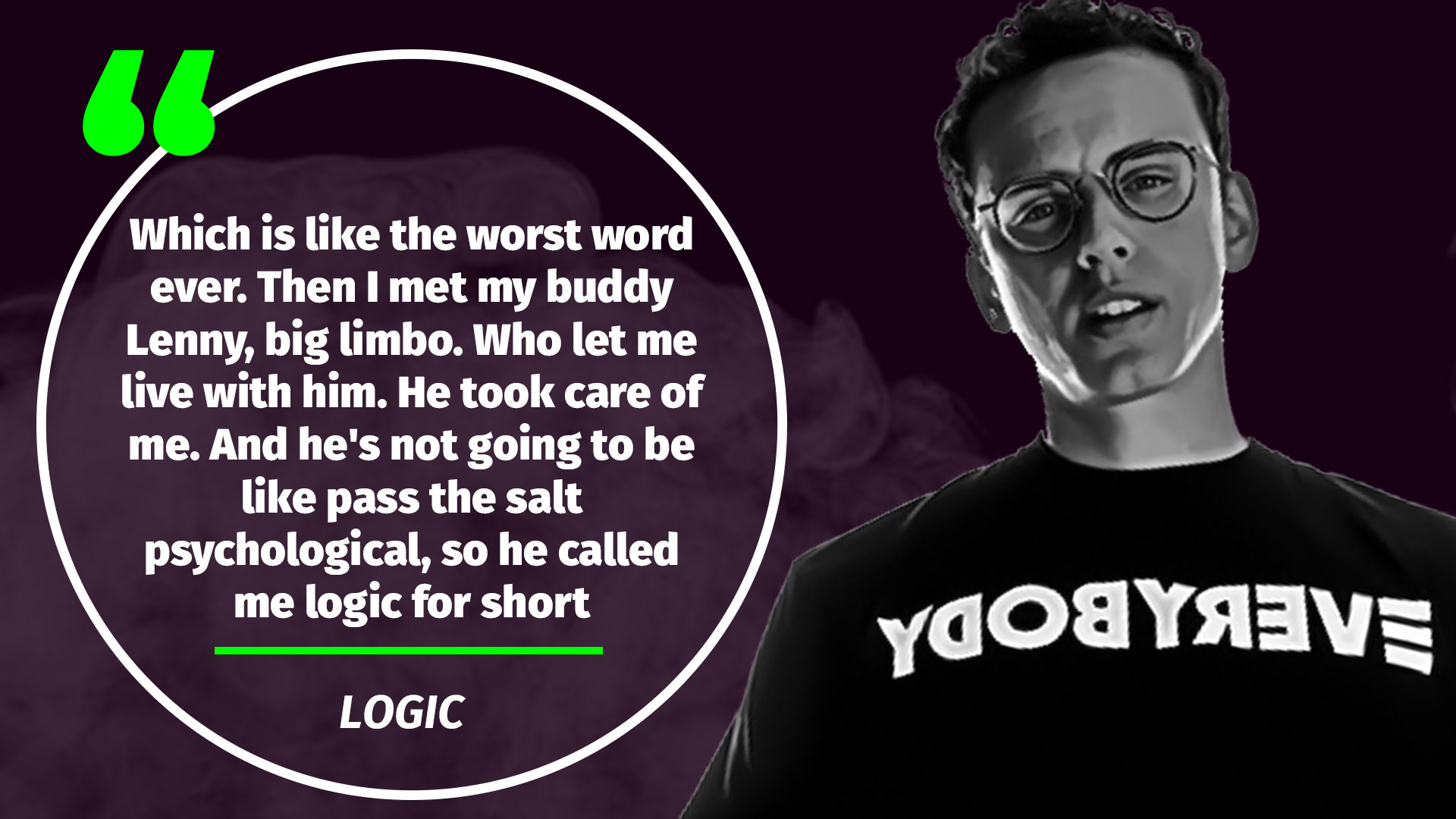 "Which is like the worst word ever. Then I met my buddy Lenny, big limbo. Who let me live with him. He took care of me. And he's not going to be like pass the salt psychological, so he called me logic for short."— Logic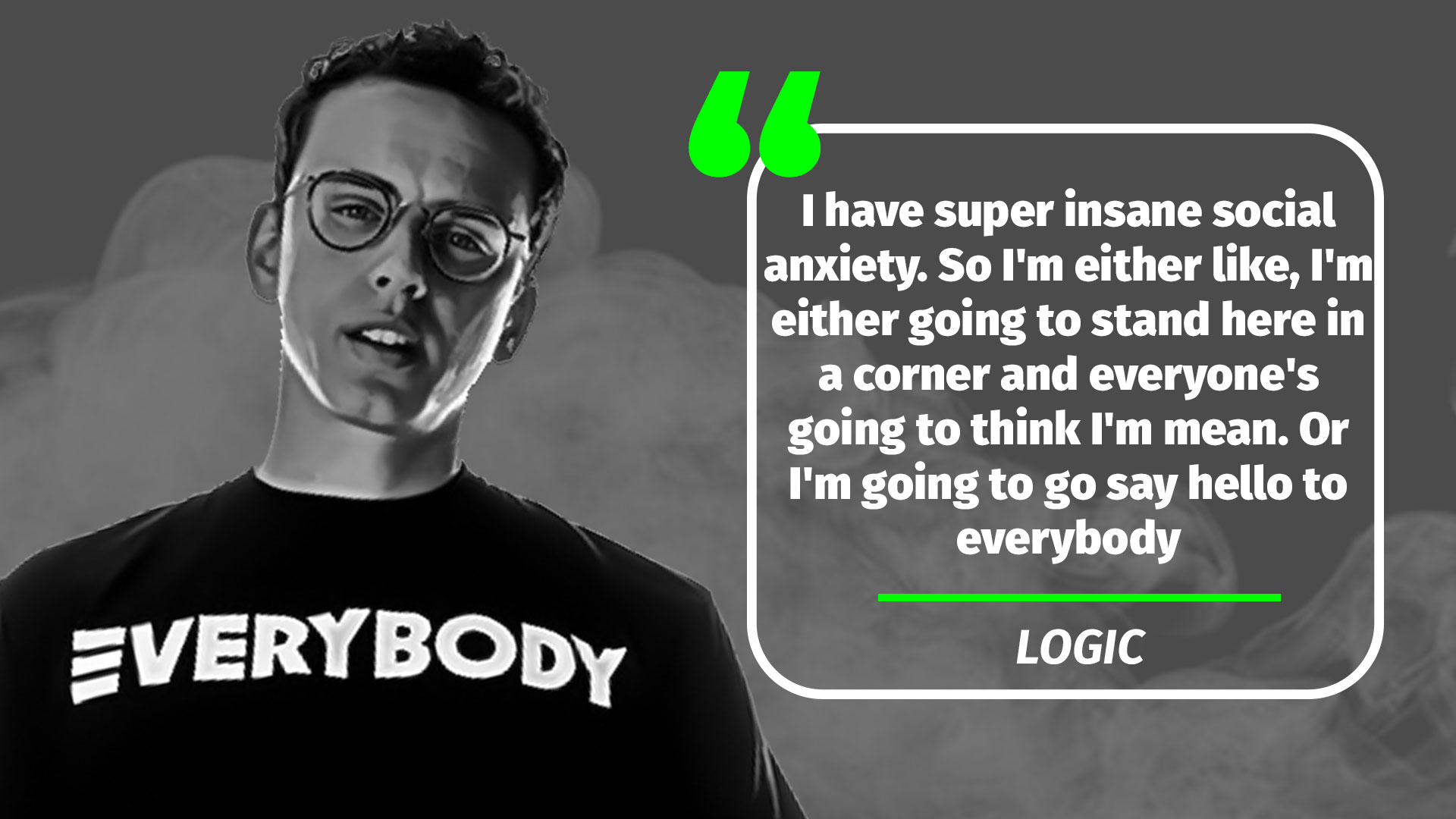 "I have super insane social anxiety. So I'm either like, I'm either going to stand here in a corner and everyone's going to think I'm mean. Or I'm going to go say hello to everybody."— Logic
Summery
Logic is such an inspirational rapper, as you can probably tell from the video above.
Logic is an American rapper, songwriter, singer, and producer. He had an interest in music from an early age and since then he hard-worked towards making a name for himself in the music industry.
As of 2020, Logic's net worth is estimated to be $14 million.
Do you have any comments regarding Logic net worth? Drop them on the comment section below