What is Neil Diamond Net Worth?
| Net Worth: | $300million |
| --- | --- |
| Source of Wealth: | Singer-Songwriter, Recording Artist, and Music Producer |
| Date of Birth: | January 24th, 1941 |
| Country of Origin: | United States |
| Last Updated: | 2023 |
Neil Diamond Net Worth: Neil Diamond is an American singer-songwriter, recording artist, and music producer with an estimated net worth of $300 million. He is popularly known for hits like Cherry, Cherry; Solitary Man; and Kentucky Woman.
Neil is one of the most successful musicians and one of the best-selling artists in history, with over 100 million records of his songs sold. Neil receives a Golden Globe award and a Grammy award for his soundtrack in the movie Jonathan Livingston Seagull. He has also won a Billboard award and has been honored with some awards for his contribution to American culture and music.
Neil Diamond is well-known for his constant support of charity. He set up a charitable fund to help the victims of Hurricane Ike in 2008. Neil has supported various foundations, including MusicCares, Stand Up to Cancer, UNICEF, and GRAMMY Foundation, to mention a few.
Early Life
Born into a Jewish home on January 24th, 1941, Neil Leslie Diamond was raised by his merchant parents in Brooklyn, New York. Neil's father later went to join the army.
Neil was a member of his high school choir together with Barbara Streisand. However, he chose to join the fencing team after he moved schools. He began to take guitar lessons at the age of 16 after he received a guitar as a birthday gift. Neil also started to write songs and poetry and advanced to writing letters to his crushes in high school.
He gained a Fencing Scholarship after high school at New York University. Neil was dedicated to fencing and was a 1960 NCAA Championship team member alongside Olympic fencer; Herb Cohen. Gradually, Neil became less interested in his pre-med degree. His interest in music began to rekindle, and he eventually quit school just months after graduation.
Career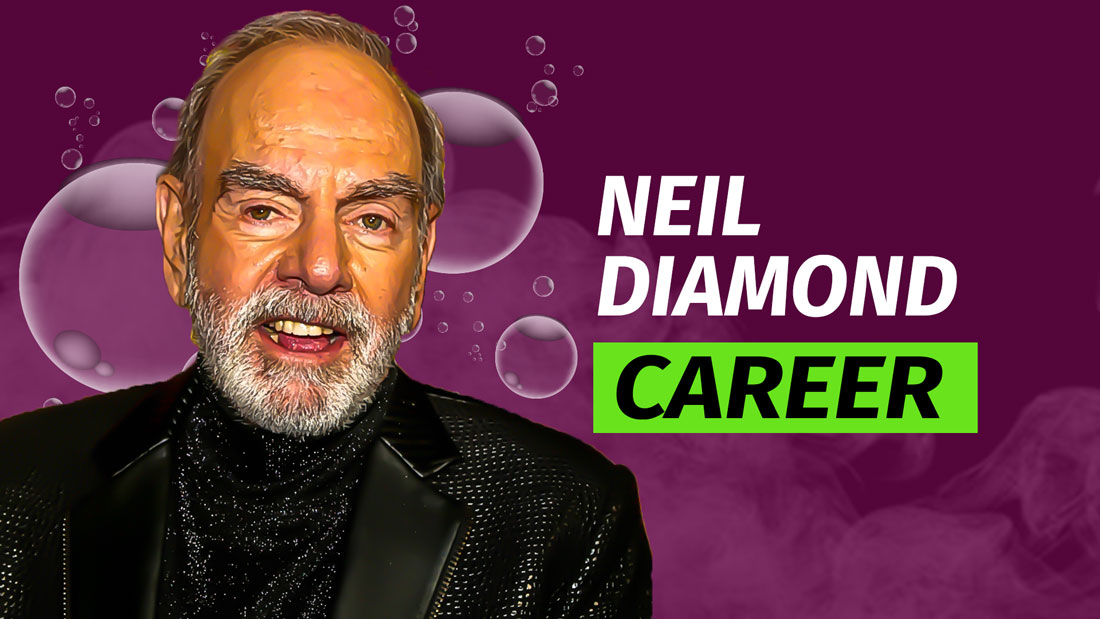 Neil Diamond dropped out of New York University just months before his graduation when his interest in music was reawakened. He began to skip lectures after discovering Tin Pan Alley, where songwriters and music publishers had set up. His frequent visit to Tin Pan landed him a job as a songwriter for Sunbeam Music Publishing. He earned $50 weekly from writing songs for the publishing company.
Neil signed a recording deal with Bang Records in 1966 and released the hit songs; Cherry, Cherry, Kentucky Woman, and Solitary Man. These songs were massive hits and made it to music charts. Before the release of these hits, Neil had already begun to gain fame and success through his songwriting. He wrote songs for The Monkees and had some of his songs performed by artists like Elvis Presley.
Diamond signed a $1 million per album contract with Columbia Records in 1973. This amount would be approximately $5.75 million in today's money. He released his album, Serenade, the next year. Diamond performed at the Las Vegas Aladdin Hotel's $10 million theater grand opening for $650,000. An amount that is equivalent to $3 million in today's money. Neil also appeared in The Jazz Singer, an 80s film.
As years passed, Neil's successful career began to move at a snail's pace. However, he still continued to work on his albums. He appeared on American Idol and became a member of the Rock and Roll Hall of Fame in 2011. Neil started out as a songwriter for little pay, he sustained himself with less than $3 daily (evaluated in today's money), but he built up his career to become one of the most successful artists of all time, the highest-selling artists of history.
Neil Diamond net worth is estimated to be $300 million as of 2023.
Career Highlights 
1965 – Sunday and Me (Single)
1966 – Solitary Man (Single)
1969 – Sweet Caroline (Single)
1979 – September Morn (Album)
2005 – 12 Songs (Album)
Personal Life 
Neil met Jayne Posner in high school. They married in 1963 but sadly separated in 1967 before divorcing in 1969. They had two children together.
Neil's second marriage was to Marcia Murphey, a production assistant. They married in 1969 and were married for 25 years before divorcing in 1995. They also had two children together. Neil began to date Rae Farley, an Australian woman whom he met in Brisbane. They started to date in 1996 but parted ways in 2001.
Neil is currently married to Katie McNeil. They got engaged in 2011 and tied the knot in 2012. Katie is nearly 30 years younger than Diamond.
Awards & Achievements
In 1974, Neil won the Golden Globe Award for the soundtrack in Jonathan Livingston Seagull in the Best Original Score category. He also won the prestigious Grammy Award for the same soundtrack in the Best Score Soundtrack category in the same year.
In 1990, he was honored with an American Music Award of Merit for his contributions to music and culture. An award was dedicated to him by the Kennedy Center Honors in 2011 for his lifetime contributions to American culture. He also received a Billboard Icon Award at the Billboard Music Awards in 2011 for his talent in music. Neil is currently focusing on his career as a producer.
Neil Diamond Net Worth
Neil Diamond net worth is estimated to be $300 million. Neil Diamond is regarded as one of the most successful musicians and the best-selling artist of all time. He is an American singer-songwriter and producer who has sold over 100 million records throughout the course of his successful career. His career has earned awards, honors.
Charity
The American singer has supported the charity in various ways. In 1992, he supported the Hands Up project for Artist for Life by making handprints which were later auctioned to raise money. In 2008, he created a charitable fund for victims of the Hurricane Ike. The charity foundations Neil has supported are; Dress for Success, MusiCares, Music for Relief, UNICEF, Habitat For Humanity, Stand Up to Cancer, GRAMMY Foundation, and Barbara Davis Center for Childhood Diabetes.
Real Estate
Neil owns a $7.25 million home in the ultra-exclusive neighborhood of Blue Whale Estates, which contains only five homes. He purchased the estate in 2017. Neil's 4692 sqft home is the largest of all the homes in the estate. The home has five bedrooms with high vaulted ceilings, a patio, an infinity pool, and a spa.
Neil Diamond net worth is estimated to be about $300 million, this is inclusive of his wealth in real estate
Car Collection
Neil owns a personal 1956 model of the vintage Thunderbird convertible.
Notable Neil Diamond's Quotes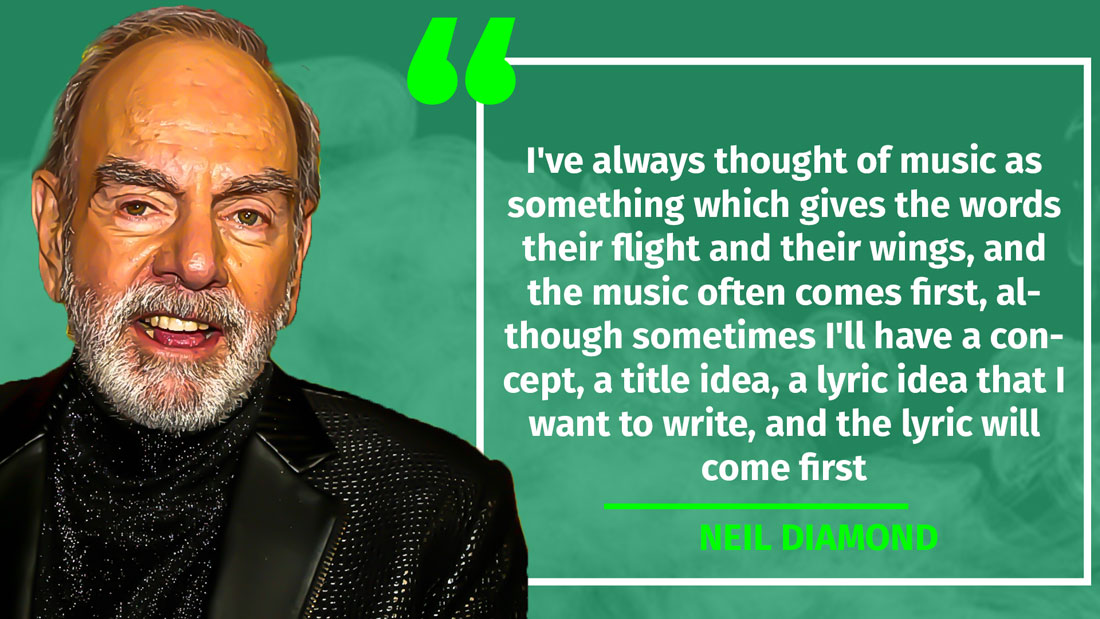 I've always thought of music as something which gives the words their flight and their wings, and the music often comes first, although sometimes I'll have a concept, a title idea, a lyric idea that I want to write, and the lyric will come first. – Neil Diamond.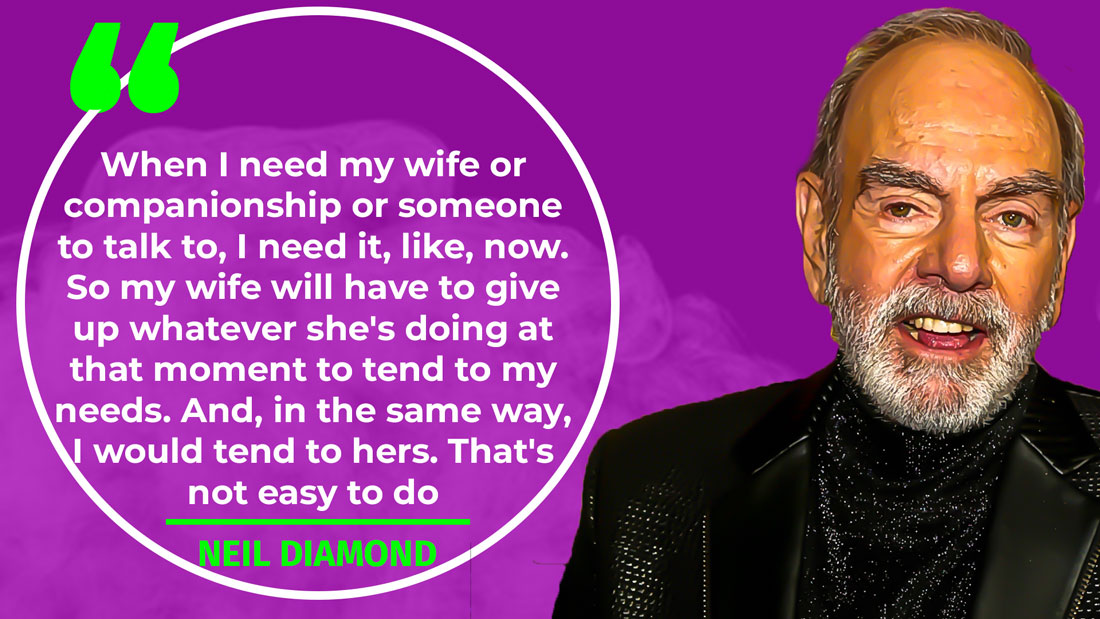 When I need my wife or companionship or someone to talk to, I need it, like, now. So my wife will have to give up whatever she's doing at that moment to tend to my needs. And, in the same way, I would tend to hers. That's not easy to do.– Neil Diamond.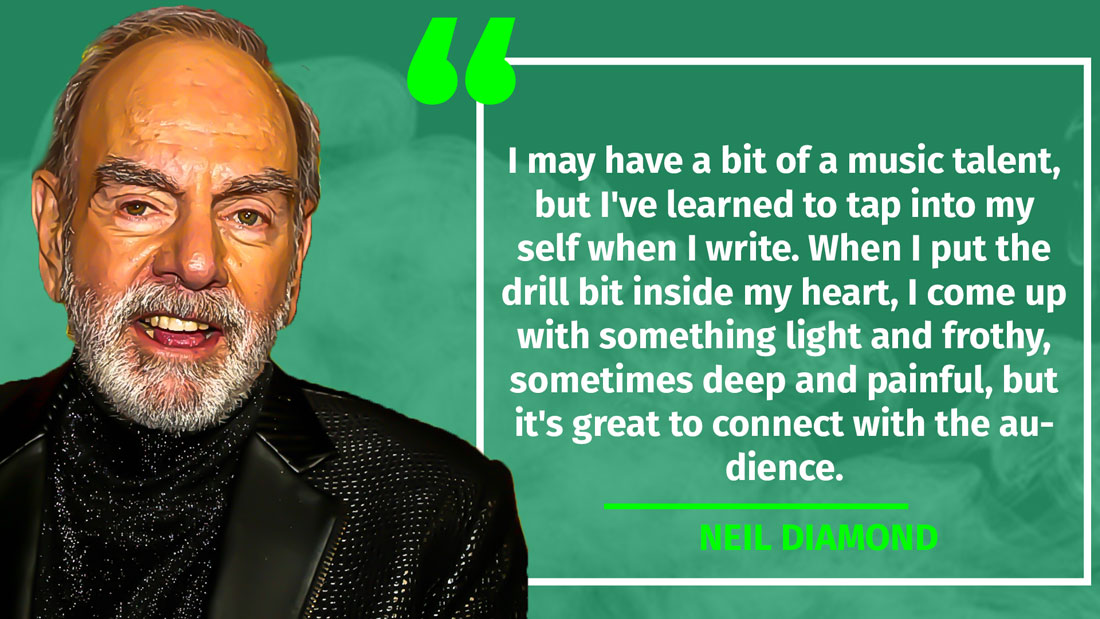 I may have a bit of a music talent, but I've learned to tap into my self when I write. When I put the drill bit inside my heart, I come up with something light and frothy, sometimes deep and painful, but it's great to connect with the audience. – Neil Diamond.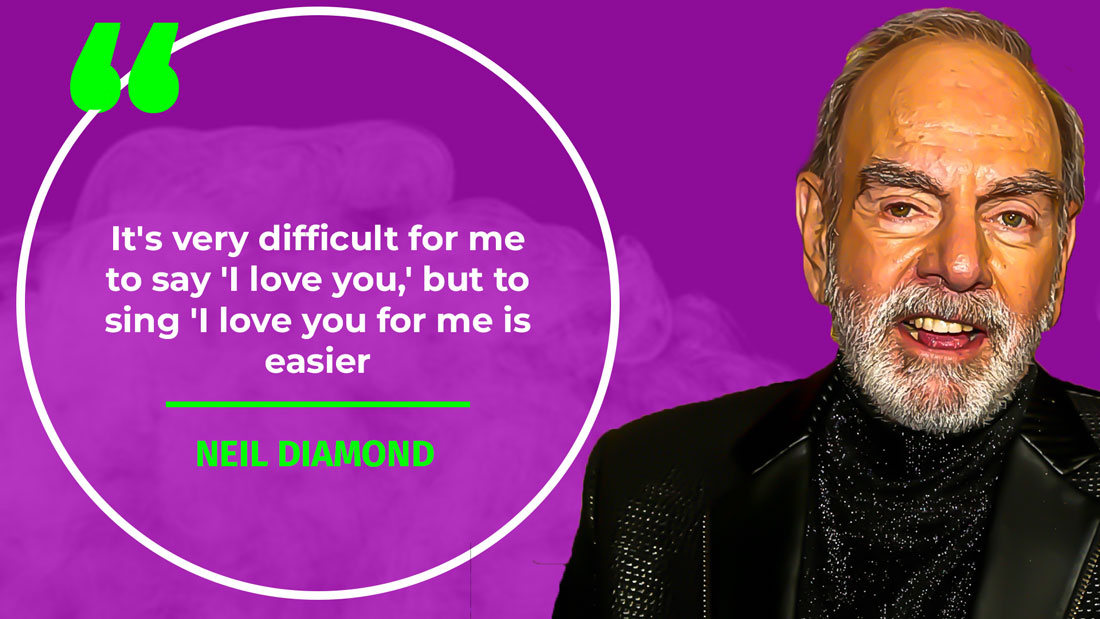 It's very difficult for me to say 'I love you,' but to sing 'I love you for me is easier. – Neil Diamond.
Life Lessons to Learn From Neil Diamond's Success
Here are some notable lessons to learn from Neil Diamond's life;
1. Support Charity
Neil Diamond supports charity organizations such as UNICEF, GRAMMY Foundation, Habitat for Humanity, MusiCares, and others. He set up a charitable fund to help victims of Hurricane Ike in 2008. Neil is well-known for his good deeds.
2. Chase Your Dreams
Neil quit school to become a singer and songwriter. He knew where he needed to be, and he followed the path without looking back.
3. The Path to Success
Neil started out as a songwriter for Sunbeam Music Publishing, earning $50 weekly, but he is currently one of the most successful musicians of all time and the highest-selling artiste in history. The path to success starts with little beginnings.
Frequently Asked Questions – Neil Diamond Net Worth
Who Purchased Rights to Neil Diamond's Songs?
The Universal Music Group acquired rights to Neil Diamond's song catalog and all master recordings. Hit songs such as Solitary Man, Song Sung Blue, America, Love on the Rocks, Red Red Wine, and Sweet Caroline were all part of the agreement.
Did Neil Diamond Sell the Rights to his Songs?
Although the financial agreement was undisclosed, Neil Diamond signed an agreement to sell off the rights to his master and publishing records to Universal Music Group.
What is the Age of Neil Desmond's Wife?
Neil is married to Katie McNeil, who is 30 years younger than Neil. They got married in 2012 in Los Angeles.
How Many Children Does Neil Desmond Have?
Neil Diamond has two sons—Jesse and Micah, with Marcia Murphey, who he married in 1969 after his divorce from his first wife. He also has two children with his first wife.
Final Thoughts 
Neil Desmond is one of the most successful musicians and highest-selling artists. He has quit touring but still records and produces songs that he would most likely release at the appropriate time sometime in the future
As of 2023, Neil Diamond net worth is estimated to be $300 million.
What are your thoughts on Neil Diamond net worth? Drop them in the comment section below.