What is Jack White Net Worth?
| Net Worth: | $60 million |
| --- | --- |
| Source of Wealth: | Musician |
| Date of Birth: | July 9th, 1975 |
| Country of Origin: | United States |
| Last Updated: | 2023 |
Jack White Net Worth: Jack White is well-known as an influential musician with an estimated net worth of $60 million. His work cuts across various bands and also his solo music. He has Catholic origins, which has influenced his life from his early stage. He is a musician, singer, songwriter, guitarist, drummer and producer. 
Early Life 
Born on the 9th of July, 1975, to his parents, Gorman and Teresa Gillis in Detroit, Michigan, Jack White was the youngest child in a large family of 12 (ten kids and two parents).
He started as a Christian in the Catholic church; there he served as an altar boy. His mother and Father worked as a Cardinal's secretary and the Maintenance Superintendent for the Building for the Archdiocese of Detroit. 
The heavy influence of Catholicism came from his mother and father, who worked for the Detroit Archdiocese. As a result of this influence, White considered becoming a priest after he served as one of the altar boys.
He was even admitted into a seminary school in Wisconsin, but the fact that he couldn't pursue his music while there gave him a change of heart and he abandoned the idea.
Career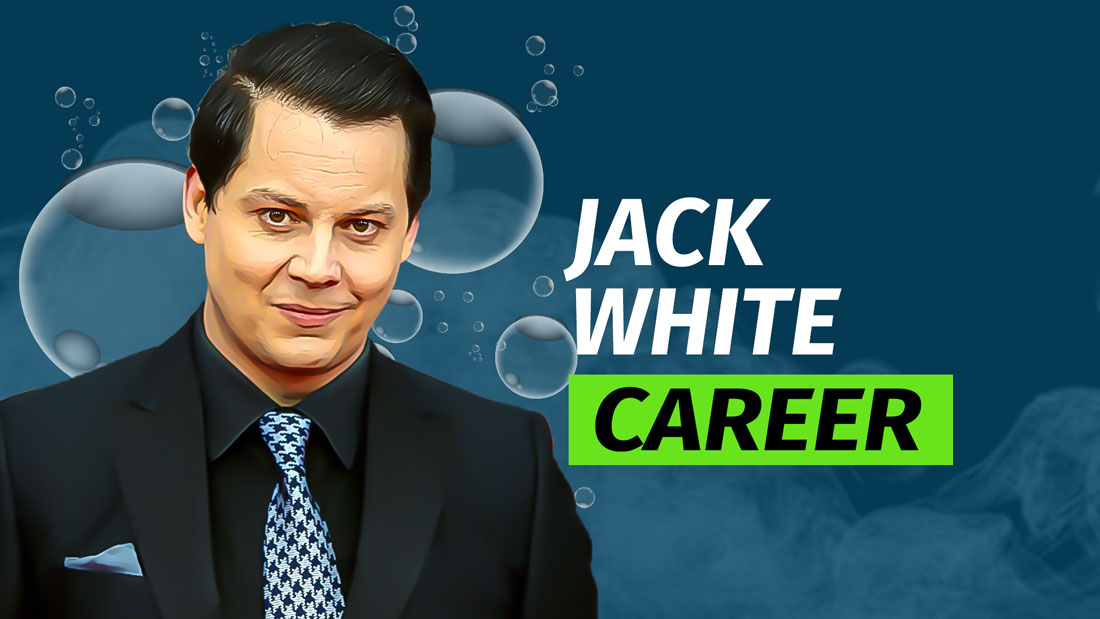 Jack's music was influenced heavily by his big brothers, who had formed a band. He started to use their instruments to learn his craft in music. After abandoning the idea of seminary school, he attended Cass Technical High School.
He instantly became an active band member in school, playing the drums and trombone for the team. He made his debut public performance with the Goober and the Peas as a drummer.
At 15, he went for upholstery training at the place of a family friend, Brian Muldoon. He also got his first actual exposure to punk rock music from his tutor, Muldoon, and with his encouragement, White formed their band, "The Upholsterers." They went on to make their debut album, "Makers of High-Grade Suites".
By far, he has had an amazing career with many awards, including Grammys to his name.
Jack White net worth is estimated to be $60 million as of 2023.
Career Highlights 
1997 – Jack and, his ex-wife, Meg White created the garage rock music duo named "White Stripes".  

2001 – White Blood Cells (music album) with the hit song "Fell in Love with a Girl" included. 

2003 – Elephant (music album) with the White Stripes

2005 – Jack White and Brendan Benson created a band named the "The Raconteurs" and released their album called "Broken Boy Soldiers" together. 

2007 – "Icky Thump," another album released by the White Stripes.

2009 – Jack White debuted as a drummer in the debut album of "The Dead Weather" called "Horehound". 

2012 – Jack White recorded and released his debut album named "Blunderbuss."

2014 – Lazaretto (solo album) debuted as no.1 on the Billboard 200 chart. 

2018 – Boarding House Reach (music album)
Personal Life
White, having been raised in a devout catholic family, had been an altar boy. During that short period in his life, he appeared in "The Rosary Murders", a 1987 movie filmed in the Holy Redeemer Parish in Detroit. The role he portrayed was, however, uncredited.
Jack White met his now ex-wife, Meg White, early. He met her in high school, and they married on the 21st of September, 1996 at the age of 21. Although they got a divorce on March 24th, 2000, Jack kept Meg's last name, White. 
The Whites started a band before the divorce. They co-created the White Stripes, and during their rise to fame, they claimed they were siblings, although their divorce had already been finalized. After his divorce, he dated Renée Zellweger, an actress. They met on a set in 2003 as a part of the cast of the film, "Cold Mountain". Both of them were together till 2004.
He met and married Karen Elson, a British model on 1st June 2005 with his ex-wife, Meg, as the chief bridesmaid. They met on the set of the White Stripes, "Blue Orchid". They were wedded aboard a boat on the River Amazon in Brazil by a shaman. They gave birth to a daughter named Scarlett Theresa (2006) and Henry Lee (2007) before their eventual separation in 2011. 
White had a restraining order taken out against him by Elson. He was not allowed to meet or speak to Elson unless on parenting grounds, as he was accused of domestic abuse. The messy divorce finally went through by November 2013.
Overall, White leads a private life and does his best to keep his family from public scrutiny.
Also Read: Nichelle Nichols Net Worth & Achievements
Awards & Achievements 
Jack White has won up to eight Grammys. He has won the Best Alternative Music Album for "Elephant". At the same time, he was part of The White Stripes (2004), Best Country Collaboration with Vocals for "Portland, Oregon" as a part of a duo with Loretta Lynn (2005), Best Rock Song for "Steady, As She Goes" as part of the band, The Raconteurs (2006), Best Solo Rock Vocal Performance for his "Warner Bros Records" (2009), Best Rock Album for his solo album, "Blunderbuss" (2012), Special Limited Edition or Best Boxed Package for "The Rise & Fall of Paramount Records, Volume One (1917-27)" (2015), Best American Roots Performance for "The Last Man on Earth" with Dead Weather (2017), and Special Limited Edition or Best Boxed Package for "The Voyager Golden Record: 40th Anniversary Edition"(2019).
Aside from these, he also has other notable awards
Jack White Net Worth
Jack White net worth is estimated to be $60 million . He earns from his work as a singer, musician, songwriter, producer, and multi-instrumentalist.
Although he has been part of bands like the White Stripes and The Raconteurs, he also makes solo music. He is best known for contributing to garage rock in the early 2000s.
Jack White net worth has grown in recent years and is estimated to go to great heights with his involvements in music and other ventures
Notable Jack White's Quotes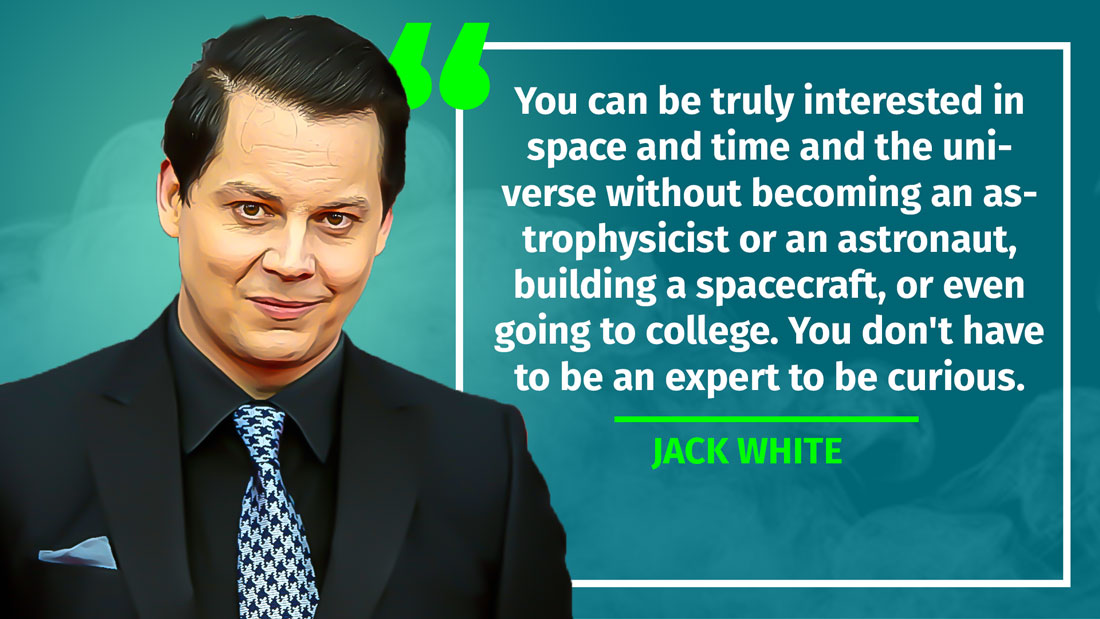 You can be truly interested in space and time and the universe without becoming an astrophysicist or an astronaut, building a spacecraft, or even going to college. You don't have to be an expert to be curious. – Jack White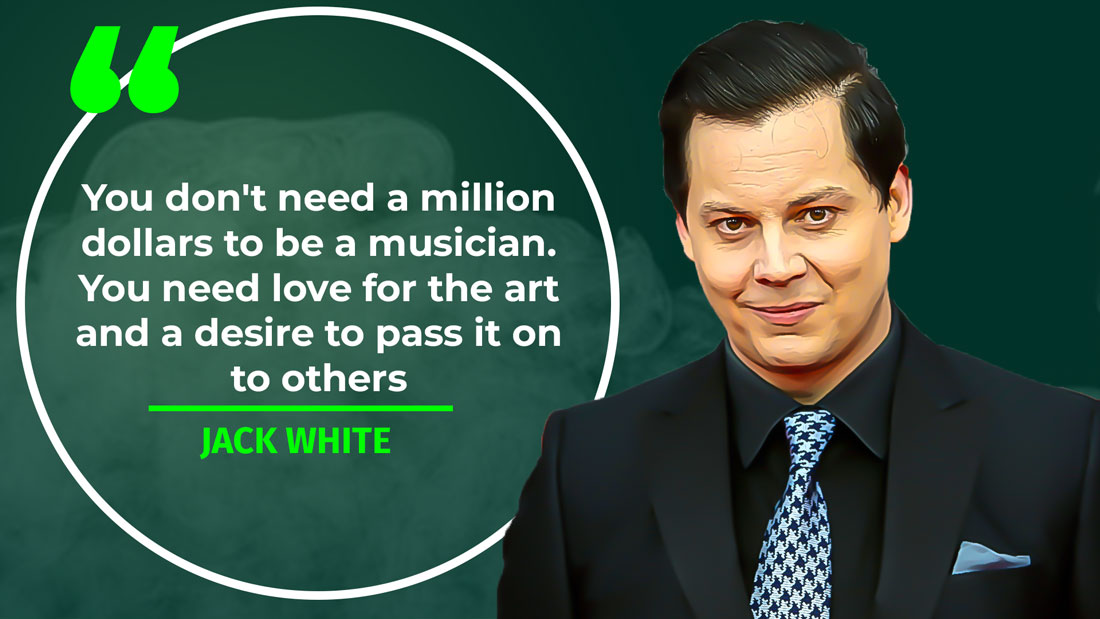 You don't need a million dollars to be a musician. You need love for the art and a desire to pass it on to others. – Jack White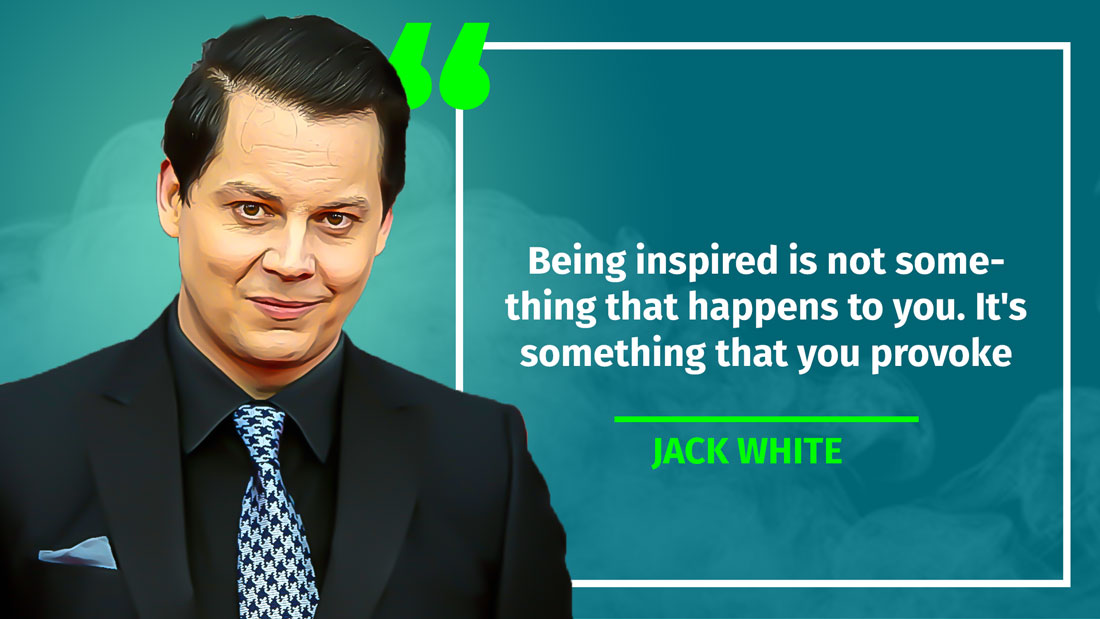 Being inspired is not something that happens to you. It's something that you provoke. – Jack White
Life Lessons to Learn From Jack White's Success
1. Be Passionate
Jack White has followed his passion for music and has earned much from it. He tried as much as he could to hone his talent and better his talent in music.
2. Family-oriented
He may have had his ups and downs, but Jack White has shown interest in involving his family in everything he does, including his music. He does the best he can to keep them away from general scrutiny. 
3. Be Hardworking
Although he was a naturally talented person, White still worked hard for the music he produced. He was committed to his craft and passion.
Frequently Asked Questions – Jack White's Net Worth
How did White become interested in Priesthood?
Jack White's parents were devout Catholics and raised their family similarly. He joined the altar boys in his parish in Detroit due to this influence. 
Was Meg Jack White's Wife?
Meg and Jack had gotten married in 2000 and gotten divorced before their duo band, The White Stripes, became famous. They started to pose as brother and sister to deflect public curiosity. This was even more confusing as Elson and Jack claimed they were each other's first spouse, and the fact that Jack's surname was White for a while.
Does Jack White have a family?
White was the last of 10 children born to Teresa and Gorman Gillis.
Also Read: Debby Ryan Net Worth
Final Thoughts
Jack White has been a leading face in the music industry, from his unique style to his presentation of music is is one to look up to in the industry. He has impacted the genre of garage rock, rock band music, and many other facets of music. The awards he has gathered show that his work is timeless and has left an imprint on all who have come across it.
As of 2023, Jack White net worth is estimated to be $60 million.
What are your thoughts on Jack White's net worth? Drop them in the comment section below.